10 of the Best Chicago Bars for Creative Types
From Les Deux Magots in Paris to New York's Studio 54, the bar and club scene has long held fertile ground for the creatives among us. Whether your inspiration is music, literature, film or the fine arts, you may well find your muse in one of these 10 Chicago bars.
Open since 1958, the Old Town Ale House has something of a reputation as Chicago's premier dive bar. Much of it comes down to owner Bruce Elliott—the epitome of charming irreverence. If you're looking for inspiration to express your social stance through your art, this is the place to be. This bar thrives on acerbic wit, from Elliott's Geriatric Genius blog (which comes with an "offensive content" warning), to the "Bruce Elliot Gallery" of saucy paintings. It all started in 2008, Elliott explains, "immediately after the Republican Convention in which Sarah Palin was made the Vice Presidential nominee. I went down to my studio in the basement of the bar and did a painting of Palin naked, holding an assault rifle while standing on a polar bear rug with harlot red high heels on…I put the painting up as a joke for the regulars but in less than 24 hours it had gone viral…Thus was born the political porn paintings which adorn the wall above the bar."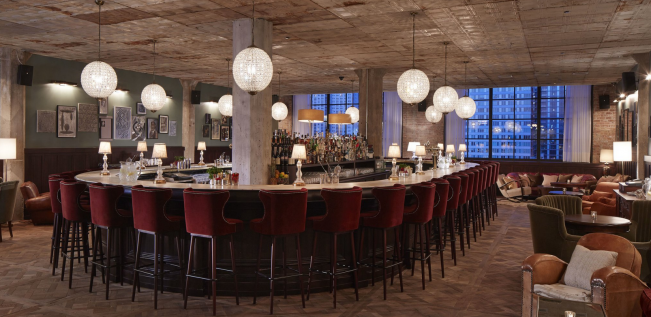 Founded in London in 1995, this private club doesn't focus on wealth or status, but rather the "creative soul." The vast majority of members work in film, fashion, advertising, music, art and media, fostering a community of like-minded creatives with whom to share ideas. That said, you don't have to be a member to visit Soho House's public watering holes, which include The Allis restaurant and cocktail bar and the diminutive Fox Bar. On any occassion, you might find yourself sitting next to an author writing her latest bestseller or watching models glide through the lobby on their way to a rooftop photo shoot. In addition to London and Chicago, Soho House has outposts in Berlin, Istanbul, Barcelona, New York, West Hollywood, Miami and Toronto.
THE INDEPENDENT | THE BURLINGTON BAR
3425 W Fullerton Ave
http://www.theburlingtonbar.com
It's as though the term "late-night haunt" was coined specifically for The Burlington Bar. The unassuming redbrick exterior makes you wonder if any light ever actually enters the place, two tiny almond-shaped windows staring out at you like a pair of squinting eyes. Once inside, the lighting is low and sultry, and the playlist amazing. Obscure bands play most nights in this surprisingly photogenic, camera-ready place. A bunch of independent films have been shot here—No Resolution and Cowards Do it Slow are two worth checking out. Tip: Whatever you do don't ask for a fancy cocktail; the bartenders are likely to ignore you and walk away.
THE READER'S CHOICE: THE WHISTLER
2421 N Milwaukee Ave
https://whistlerchicago.com
You've got to love The Whistler for being all that it can be: cocktail bar, record label, art gallery, and live music venue. The storefront features funky, rotating art installations by local artists (right now it's Styrofoam and fans). And since there's no sign outside, you're forgiven for not knowing there's an uber intimate cocktail bar just inside. A significant amount of the tiny space is taken up by a stage and dance floor, so you know you're going to hear a boatload of music. In fact, there's live music playing or DJs spinning every night of the week, with no cover (which is perfect for starving artists). Many of the performances are recorded live at The Whistler, which is where the record label part comes in. The place most people make a B-line for, though, is the patio at the back. Low wooden benches set at right angles make socializing with strangers easy, although it's not unusual to find solo patrons sharing a date with a great book instead. It's well lit, but not harsh, which means you can sink into a novel and forget all about the time. Well, at least until 11pm, when the patio doors are locked.
With six resident companies performing classic and contemporary plays in the Den's 200-seat theater, lovers of the stage already have a reason to hang out at this Wicker Park creative hub. But even when performances aren't being staged, the Haven Lounge just off the lobby is a great place to hang with your laptop and hammer out your Pulitzer Prize-winning play. There's a richness and warmth about the place, accentuated by cushy vintage armchairs and intimate tables tucked into alcoves. Den offers staples from Dark Matter Coffee and Goddess & Grocer, along with a full cocktail and beer menu at your fingertips served from the vintage mahogany bar. The Haven Lounge is always graced with artistic types focused on their creative process, so you're sure to feel the muse's presence while you're there.
Handlebar has been around since 2003 and is a favorite among the local artsy crowd. On any given day, anything from Metallica to the Pixies to the Kinks blasts through the speakers, as some of the most welcoming staff in town serve up seafood, vegetarian and vegan comfort food—alongside an impressive list of craft cocktails. The majority of the people who work at Handlebar are talented musicians themselves, and if you check out the posters plastered about the place, you'll discover that one of their bands—Pink Frost, The Runnies and Touched by Ghoul among them—is likely to be playing sometime soon. Be sure to check out the patio in back, shaded with trees and umbrellas throughout the summer months. And if you're of the French school of creativity (i.e. cigarette dangling from your lips as you create your next great work), then you've likely found Nirvana—only three of Handlebar's outdoor tables are designated non-smoking.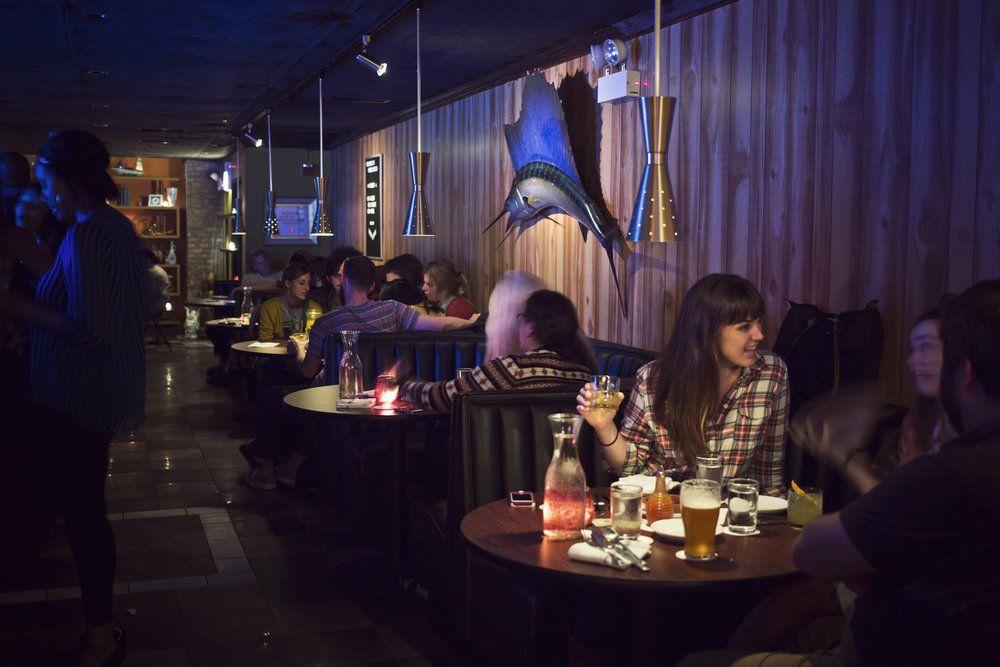 Pilsen has long been a bastion of the arts. Thriving artist studios are pretty much in spitting distance of wherever you happen to stand. In the heart of this vibrant artist enclave you'll find the subterranean lair known as The Punch House, a 70s-inspired, wood-paneled, vintage-infused cocktail joint. DJs spin seven days a week, playing everything from tropical and psychedelic to soul and disco. But if that doesn't satisfy your need for musical inspiration, head upstairs to Thalia Hall, one of the city's premier indie performance venues.
THE ABSINTHIAN: THE VIOLET HOUR
1520 N Damen Ave
www.theviolethour.com
L'heure Verte at The Violet Hour celebrates one of the most revered muses: Absinthe. You can bet that the inspiration behind the likes of Lautrec and Manet may very well inspire you too (isn't it about time you had your solo show at MOMA?). The "Green Fairy" is served with befitting pomp and ceremony Mondays through Thursdays 6-8pm—sugar cube and slow drip included. The Violet Hour itself remains true to the speakeasy tradition, with an unobtrusive exterior that doesn't give the slightest hint of the sumptuousness inside. Slide through the heavy velvet drapery and you discover an environment the Parisian literati would have loved.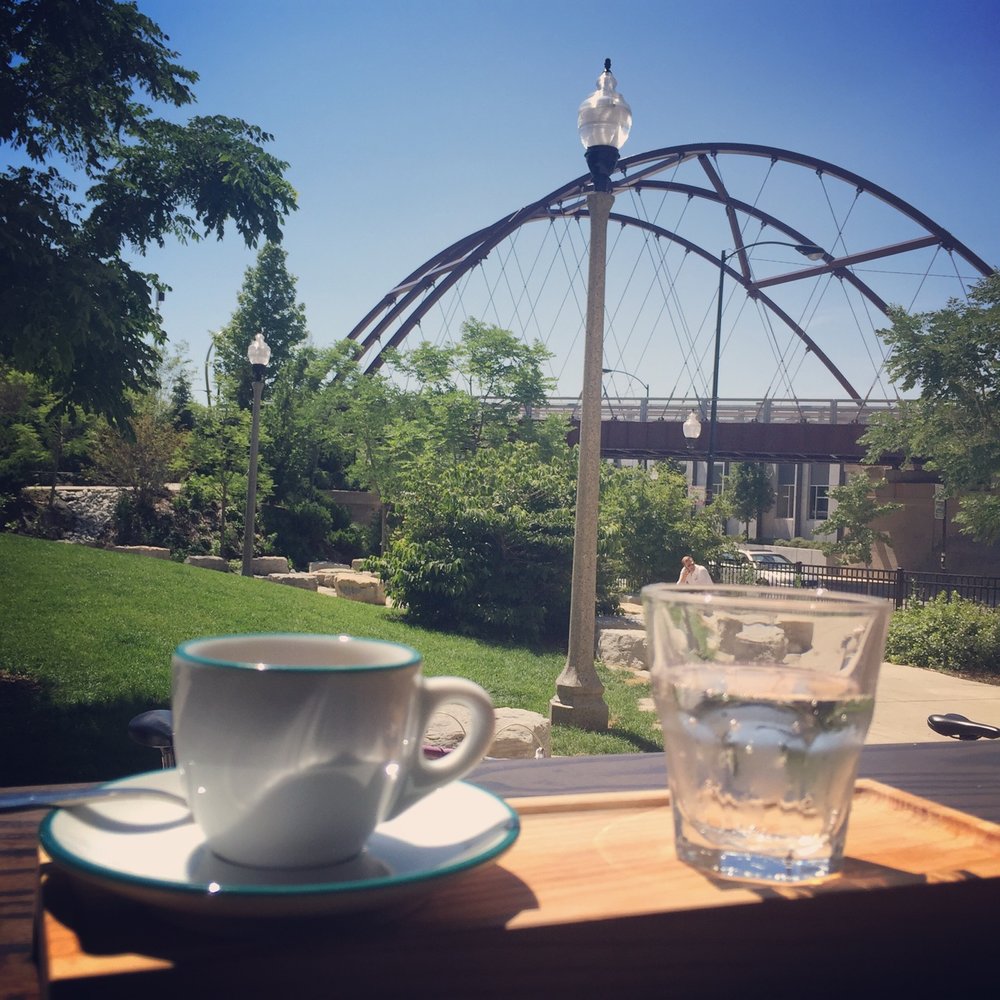 THE CAFÉ SOCIALIZER: IPSENTO 606
1813 N Milwaukee Ave
www.ipsento.com
Ipsento 606 takes the café society concept and runs with it, elevating coffee-making to the highest art form and catering to a sea of hip laptop carriers perched on barstools. After 7pm, however, laptops are banished from the premises and cocktail hour takes over. Which gives you the inspiration to get your work done and reward yourself with a Lebanese coffee laced with liqueur and topped with cardamom cream, an innovative craft cocktail or a seldom seen brew. For even more inspiration, look no further than Ipsento's location, right on The 606 and next to one of the trails serene green spaces, Spire Garden. When you need to take a break, or cure your writer's block, sit yourself on a boulder and contemplate the vast Jeff Zimmermann mural on the side of the building—a montage of scenes inspired by people and nature, blasting dynamic shapes and vibrant color into your consciousness.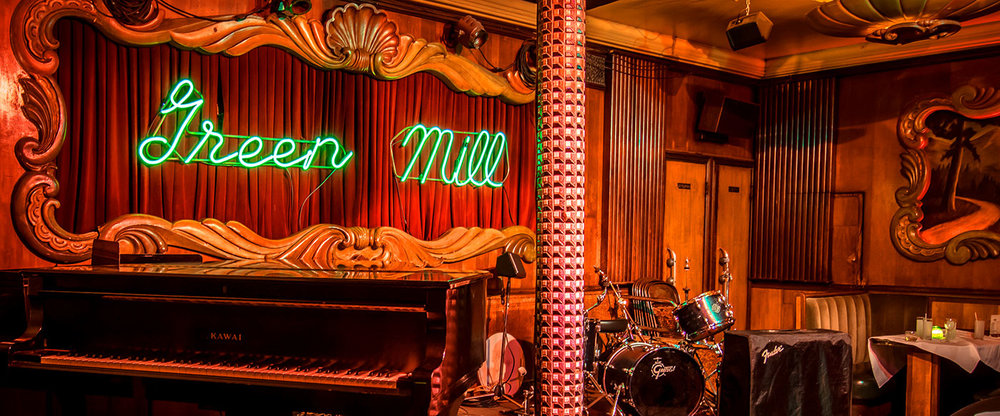 THE JAZZ BABY: THE GREEN MILL
4802 N Broadway St
www.greenmilljazz.com
If you draw inspiration from the past, then nestle into a booth at The Green Mill. This historic Chicago jazz club, first established in 1907, hits the mark on so many levels. For starters, it's like a Jazz Age time warp; it's all too easy to conjure up images of mobsters eye-balling you from the corner table, and, in fact, Al Capone's favorite booth is still there, directly west of the short end of the bar. Every day of the week, sultry jazz singers lull you into slightly tipsy artistic revelry, while Sundays from 7-10pm, poets hit the stage to share their lyrical odes to lost love.