2018 Advertising Trends: Reaching Audiences Here, There, and Everywhere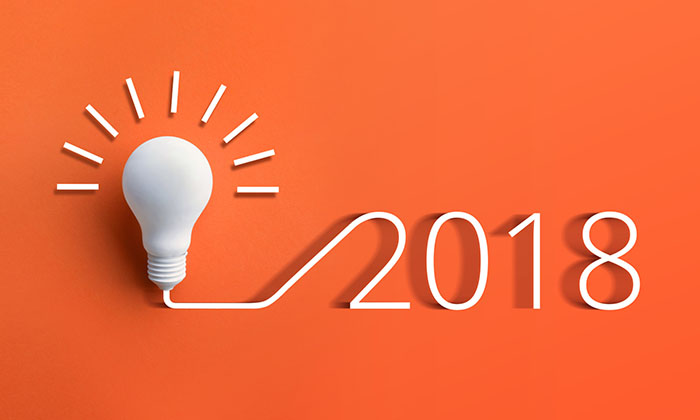 It seems hard to believe that most advertisers once flocked to TV and newspaper. Advancements in technology offer unparalleled possibilities for targeting and engaging audiences, irrevocably altering the media landscape and consumer behavior. The digital marketing revolution affects everything from how content is created to audience expectations, and experiential advertising stands at the forefront. Consumers, who see more than 5,000 advertisements in a single day, are looking to connect less directly with products and more directly with one another through meaningful brand experiences.
Here are some of the top trends we anticipate having the most impact on advertising in 2018:
1. follow the consumer
With an estimated eight video playback devices per broadband home today, 83 percent of the population is projected to be consuming digital video by 2020. That means advertising content needs to be seamlessly accessible across all screens and platforms with television increasingly tied to the digital and mobile space. Shorter ads, interactive ads, and brand-content integration will become even more important.
As predicted AdWeek in April 2015: "Many companies are currently implementing omni-channel tactics, or they plan to implement them in the near future. 35 percent already market on multiple channels, and 27 percent plan to achieve that end goal in the future."
2. weave brands into content
As consumers demand more ad-free programming, advertising needs to become both more relevant and more directly integrated into content. Content should support marketing objectives while educating and/or entertaining audiences through product placement and content-related storylines. Because, let's face it, storytelling never goes out of fashion.
3. go beyond 2D
Virtual reality (VR) and augmented reality (AR) are a reality now more than ever before, with headsets and software increasingly affordable for consumers and data showing that immersive environments offer a significantly higher emotional engagement than 2D environments. In the coming years, we'll see companies deliver more personalized narratives and simulations at scale and to previously neglected markets. If you have any doubts, consider this: The VR/AR market is expected to hit $108 billion by 2021.
4. now you see it, now you don't
Ephemeral or short-lived content on social media platforms such as Snapchat is considered by social media marketing experts to be accepted by consumers as more authentic than long-form ads. Because snippets appear and disappear quickly, ephemeral content encourages younger millennial and generation Z to take action sooner rather than later. No one wants to miss out (FOMO = Fear Of Missing Out) on previews or promotions, and evidence suggests that people aren't just looking at ads on social media. They're buying, too.
5. influencers influence
Last year, influencer marketing spending reached nearly $600 million. This year, influencers will play an even greater role in affecting the buying habits of consumers. They bring advertisers direct sales, search-engine-optimization gains, and wider audiences. Expect to see organizations employ more influencers and micro-influencers who align with their brands for long-term basic and experiential marketing strategies. Influencers who have the trust of a brand's target audience are proving they can provide a leg up on the competition.
6. connecting in real-time
Live streaming draws more targeted consumers to brands, with existing app integration that allows brands to reach audiences in real-time. The advantage: consumers who aren't interested enough to participate in your brand's livestream most likely aren't your consumers. In China, the world's biggest e-commerce market, live streaming has boomed with advertisers such as P&G, Adidas, and Sony. According to an AdAge report, Huachuang Securities predicts the industry in China alone could expand to $15.9 billion by 2020.
7. experiential to the fore
Experiential marketing has become the most critical tool in the modern marketer's arsenal, according to industry research company PSFK in its 2018 Advertising Playbook. With improved metrics and consumers craving communal events, a well-executed experiential campaign generates brand excitement with the power of a live event. And data shows people are more inclined to purchase products after attending a cool activation.
"Experiences can now spread exponentially and their success can be tracked in precise detail," said PSFK founder Piers Fawkes. "No longer a tactic, experiential marketing offers a scalable solution that drives sales, builds loyalty and adds significant business value to brands."
Refinery29 made waves this past year with 29Rooms, a "Funhouse of Style, Culture, and Technology" in Brooklyn. Volkswagen's Piano Stairs, nestled within a German subway station, allowed people who took stairs instead of the escalator to play their own music while ascending or descending. As a result, 66 percent of subway passengers took the stairs and audiences equated the Volkswagen brand with a fun, playful experience. Casper, the mail order mattress company, offered 8-minute power naps to SXSW festival goers its Napmobile. The RV featured private mattresses, pillows and sheets, slippers, cold brew coffee, and you guessed it – a dog bed.
8. chatbots make commerce easy
A chat bot is a software application built to simulate a one-to-one human conversation, working on the principle of "conversational commerce" at the nexus of content and shopping. While gathering personal information and histories, bots can fulfill simple orders, provide customized help, and send automated messages. In 2016, major brands like NBC and Sephora launched chatbots for messaging apps like Facebook Messenger, Slack, Kik, and LINE. Consumers want to use messaging to interact with businesses, and businesses find that chatbots help automate many simple customer care issues.
"At Sephora, we want to give each of our clients an innovative and intuitive experience, no matter how they choose to interact with beauty," Bindu Shah, Sephora's Vice President of Digital Marketing, told the fashion industry trade journal Women's Wear Daily last year. "This is why our digital presence is rooted in innovation, with trailblazing features that aid the client on their beauty journey…."
Expect bots to become more efficient and more integrated with home devices such as Amazon Echo and Google Home. Also anticipate more "voice-first" marketing platforms to help consumers multitask at home, the office, and on the go.
9. 0utstreaming video
Visual content is 40X more likely to get shared on social media than other types of content, so it's no wonder that brand professionals are discovering outstream video — also known as "in-read" or "native video." eMarketer found that 77% of agencies worldwide said the new format, with click-through rates indicating it is highly effective, is going to become much more important to their clients.
Outstream video allows video ads to be shown outside of actual video players. Until now, brands were forced to run video ad campaigns before or during a video or within a video player, which meant only publishers with video content like YouTube or Vimeo could run the ad. Outstreaming offers expanded reach to advertisers without sophisticated camera equipment or editing software, while pleasing consumers who resent being forced to watch videos online.
Ted Dhanik of Marketing Land explains, "Instead of running within a standard video player, these high-quality impressions can run within standard ad placements, on the corner of the page, or even within the content of a written article. They are designed to be 100 percent viewable, only deploying and playing when the unit is onscreen and the consumer is moving the page around."
---
Ready to improve your creative strategy for 2018?
We're here to help. Contact us today for a free consult.