Art As Activism: When Creativity Gets Political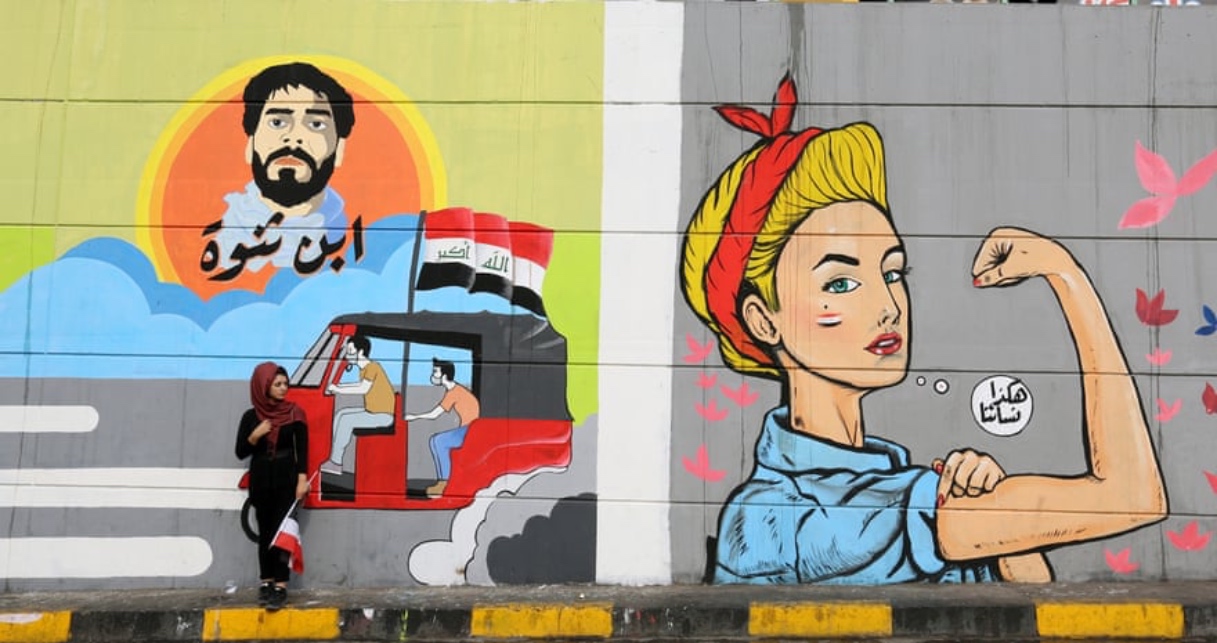 Vibrant murals line the walls of a concrete tunnel in central Baghdad. Sudanese women using henna ink to cover their arms and legs in anti-government slogs. Stand-up comics in Venezuela being forced to leave the country for controversial jokes. Art as protest against the status quo, against government and inequality, can be traced so far back in human history it's difficult to mark the inception of creative dissent.

Dada performance artists launched the Cabaret Voltaire during the tail end of WWI as a venue for political and experimental performance art. They defied expectations of traditional fine art making with a declaration that anything could be art – from found materials and candy wrappers, to collages constructed out of magazine clippings.

These early influences paved the way for protest artists like Diego Rivera to create larger-than-life murals depicting the daily struggles of Mexico's working class. His controversial fresco, "Man at the Crossroads," was commissioned in 1932 and later destroyed by the Rockafellers after the New York World Telegram called the piece "anti-capitalist propaganda."

Years later, German-born dancer and sculptor Peter Schumann would move to New York City and launch Bread and Puppet Theater. The company's politically charged puppetry shows challenged "rents, rats, police, and other problems of the neighborhood," before taking on U.S. involvement in Southeast Asia in the early 1960s. Even today, the company's lived philosophy of art and activism attracts new audiences and enthusiastic volunteers.

HAUTE PROVOCATEUR

As social consciousness shifted in response to global civil unrest, marketers shifted their focus toward consumers. Major fashion brands used ad campaigns to comment on humanitarian issues like the AIDS epidemic, not just clothes. Benneton art director Oliviero Toscano told the New York Times in 1991, "I have found out that advertising is the richest and most powerful medium existing today … so I feel responsible to do more than to say, 'Our sweater is pretty.'"

When Benneton used a colorized version of Therese Frare's photograph of gay activist and AIDS vitim David Kirby on his death bed in an ad campaign, it launched a global boycott of the company. Despite the backlash, Kirby's father issued a statement defending the controversial ad.

"Benetton is not using us, we're using Benetton…If that photograph helps someone…then it's worth whatever pressure we have to go through." — Bill Kirby
SUBVERTING EXPECTATION

Major demonstrations in Russia, Serbia, Ukraine, France, Spain, the U.K., Middle East, South America, and here in the U.S. dominated the news cycle this past decade and continue to do so today.

According to Jacquelien Van Stekelenburg, a social change and conflict professor at Vrije University in Amsterdam, worldwide protests are increasing with numbers comparable to those in the 1960s—one of the most turbulent decades in world history.

The Fugitive Offenders amendment triggered demonstrations across Hong Kong in 2019, fueling the concerns of young people that the bill would undermine civil liberties. The country's flag, a bauhinia flower with white petals set against a red background, was designed as a symbol of unity but quickly adopted by activists and reimagined with wilted or bloodied petals.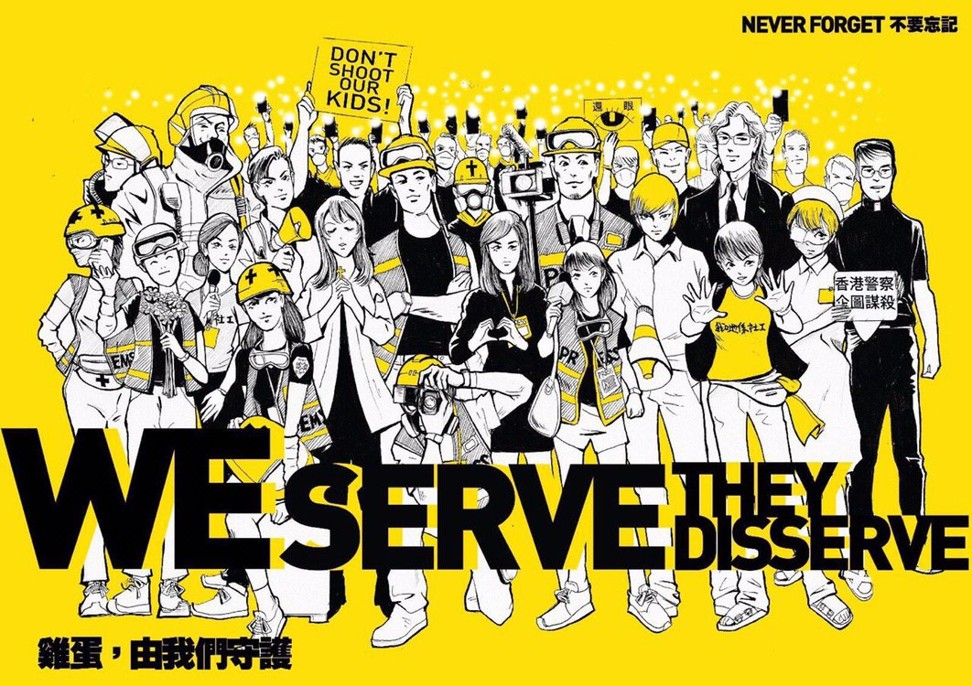 University students know that in order to compete with the government, you've got to get creative. A 5,000 member underground student group with over 200 designers and illustrators is responsible for some of the most subversive, yet effective protest banners in the Hong Kong demonstrations. While many of the students have never met, the group uses the Telegram messaging app – along with 48-hour marathon nights of creative brainstorming – to connect and develop concepts that push back against the government.

Thousands of miles away, Berlin-based artist Dorthea Nold created a series of billboards advertising fake real estate projects as a way to protest luxury developments. The ads looked so realistic, Nold found herself at the receiving end of 6 calls per day from interested buyers. According to The Guardian, the project is led by engineers 'Desperate Development' and real estate agents 'Sharck Immo,' the latter being a play on German word miethai, or slum landlords.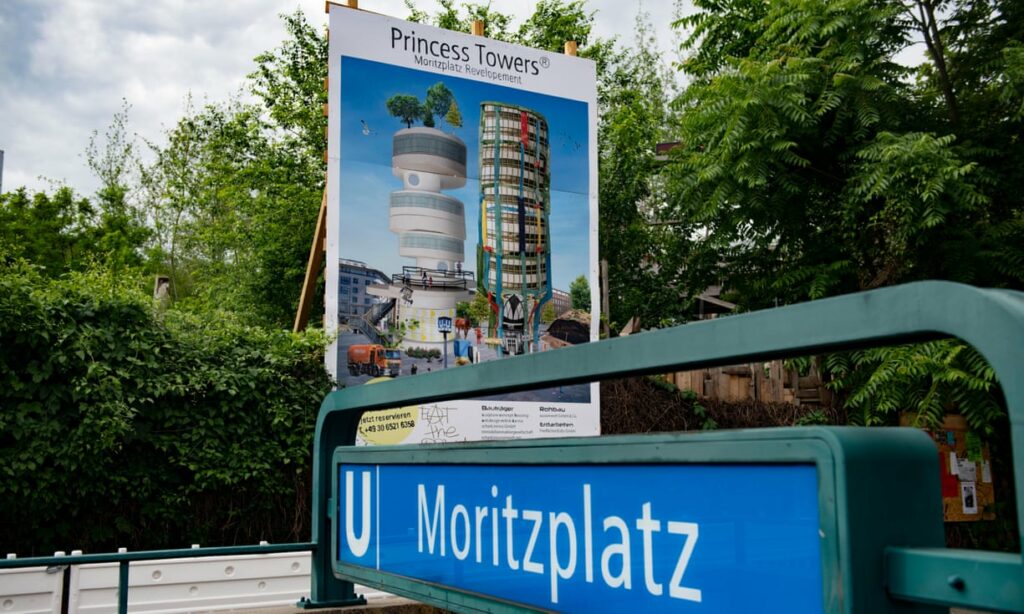 Famed artist and activist Ai Weiwei has long used his work to reflect on worldwide political issues and comment on unchecked authority. His latest exhibition, Bare Life featured two stories of floor to ceiling middle fingers wallpapered across from a mural-sized wall made up of 25 rows chronicling the plight of the contemporary refugee.

"We can see that different societies have different types of propaganda, but they have the same character. People feel powerless. They don't trust any media anymore, then they don't trust any authority anymore. When there is no sense of trust, they have lost the legitimacy of the power." Ai Weiwei

So what happens when the lines between propaganda and political activism are blurred? In some cases, protest and resistance movements think along the same lines as big, global brands. Extinction Rebellion is "an international movement that promotes civil disobedience and nonviolent direct action in an effort to compel urgent action in climate change." They use the ideas behind corporate branding to create unified designs and artwork that is free and available for non-commercial use for the "purpose of planet saving."
TURN ON, TUNE IN, DROP OUT

Here in the U.S., the evolving role of protest is a complex one. A 2018 article by Spencer Kornhaber with the Atlantic chronicles defeatist attitudes in pop-culture in the wake of the 2016 election. "It is," he writes, "for better or worse, the art not of a revolution but of a failed revolution."

Kornhaber suggests that more and more artists are tuning out of the 24-hour news cycle, instead focusing on more localized, tangible problems. He offers "Pa'lante" by Hurray For The Riff Raff as a prime example of one artist's determination not to cower.

Is this really a symptom of misplaced anxiety? And if so, what could be more dismissive than the go-to phrase, "ok boomer!". A phrase, turned meme, turned polarizing generational divide – a veritable "talk to the hand" gesture of protest meant to kill a conversation in its tracks.

When anything and everything, from your teenager's tik tok feed to the Handmaid's Tale is art, protest is open to interpretation.
Check out these links for more on some of our favorite inspo's on protest art today:
Can Protest Art Get Its Mojo Back?
Benneton's Most Controverial Campaigns
Investors Flock to Fake Real Estate Ads
Nancy Goldin, Cindy Sherman to Exhibit Art for Abortion Rights