Curmudgeon at Home: Working During a Pandemic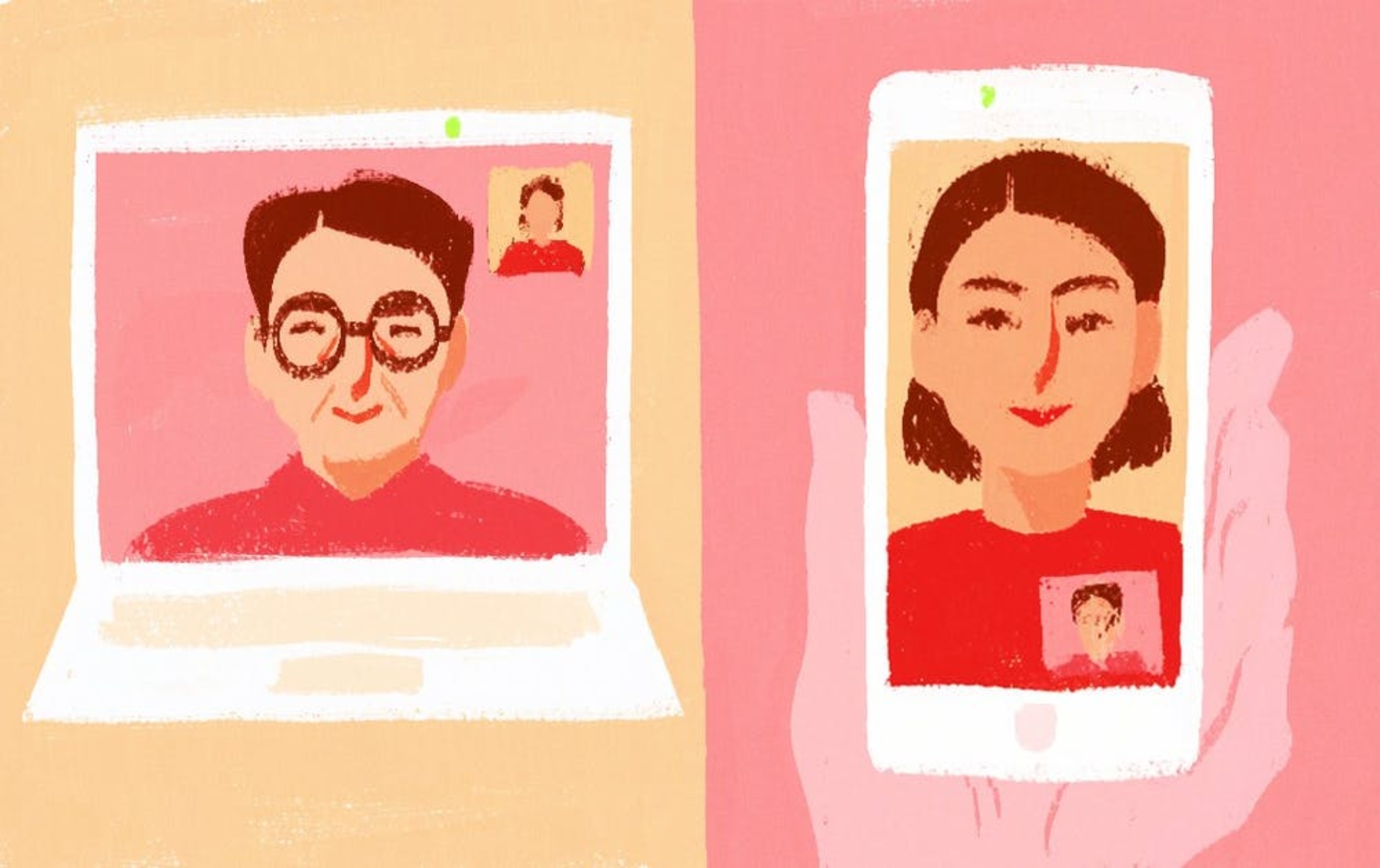 We're about a month into Illinois' stay-at-home order and no matter where you live, the coronavirus is testing everyone in unparalleled ways. Like many of you, Curmudgeon Group is hunkered down on couches, at desks, and at kitchen tables in homes far and wide. It's a new reality that we find ourselves in, and we're finding new ways to stay safe and be productive. 
Like many other remote workers, we've taken multitasking to new levels. Maybe that means doing laundry and running the dishwasher while managing accounts and taking (a lot of) Zoom conferences. Maybe it's walking dogs and caring for children, roasting marshmallows and doing jigsaw puzzles, binging our favorite shows, or downloading exercise apps between client meetings and virtual team hangouts.
Creative Producer and Curmudgeon Owner, Josie Davis, temporarily relocated to Montana to be close to family, but she still wakes up early, makes coffee, reads the paper, and is working by 8 a.m. "I've set up shop here, alternating between a makeshift desk in my bedroom and the kitchen table," she says. "Fortunately, there are good mountain views and fresh air all around so along with my pup, I'm in good company."
Katy Osborn, our Creative Strategist, has worked remotely for years. She's working from home while caring for her young daughter, who sometimes pretends she's having her own phone call meetings. After her daughter goes down for her nap Katy can work and get things done, even if it means burning the midnight oil a little later.
"Not having to travel for meetings is nice, Katy says, but constant video calls are a drag. There's always one person who doesn't come through clearly, and the conversation is impossible."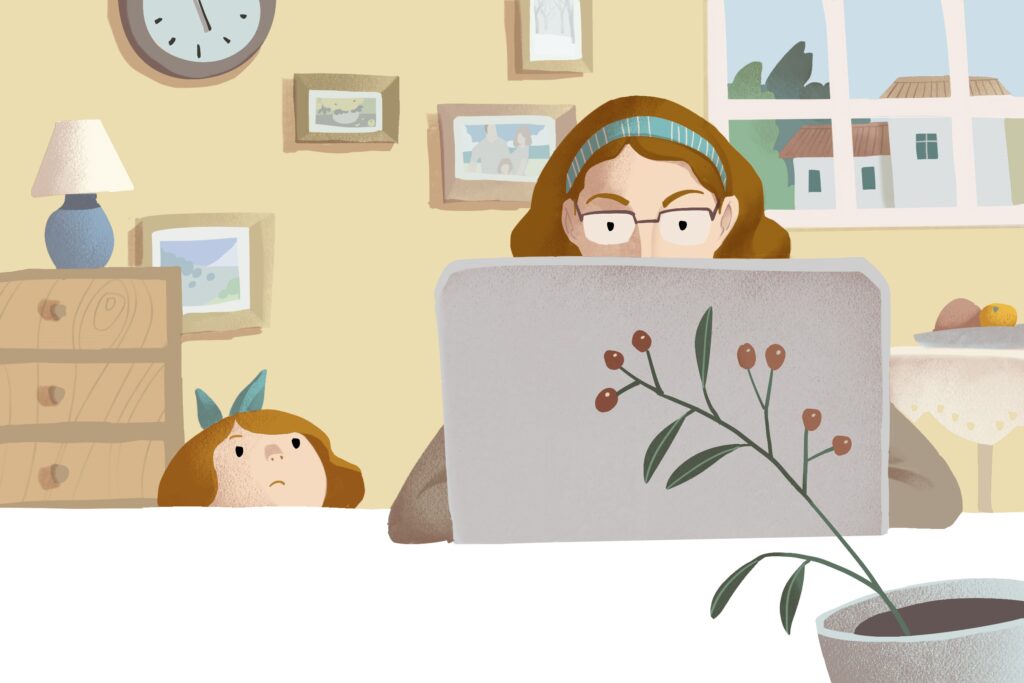 Curmudgeon Group PR & Communications Director Jennifer Gordon agrees. "Zoom and Google calls are fine, but nothing replaces that in-person energy."
A home office with a door that shuts out interruptions is definitely an advantage when it comes to working remotely. Jennifer has a full tech set-up in a space with lots of photos and natural lighting for inspiration. "My day is always fluid, given the nature of PR," she says. "I may have some scheduled press releases, interviews, etc., but more often than not, I am responding to the needs of each day as it comes."
It's different for Jenny Alberti, who has been working at home for the last six years and has a spacious home office. She blocks out her schedule by the hour at the beginning of most days. "Laying out my tasks and filling my day makes me most productive and cuts down on dawdling and Facebooking between tasks," says Jenny, who takes breaks to walk her dogs. "I know what I'm working on next."
Our Digital Marketing Strategist, Whitney Stanton, has also been working remotely for the better part of the last decade. Now, with her kids at home, she finds that trying to do too much means getting less done. "I try to limit my work to the specific hours I've set aside that day," she says. "Devoting chunks of time to specific tasks makes me a better worker. Working at a surface — as opposed to a laptop on my lap — helps me get in the 'work' mindset."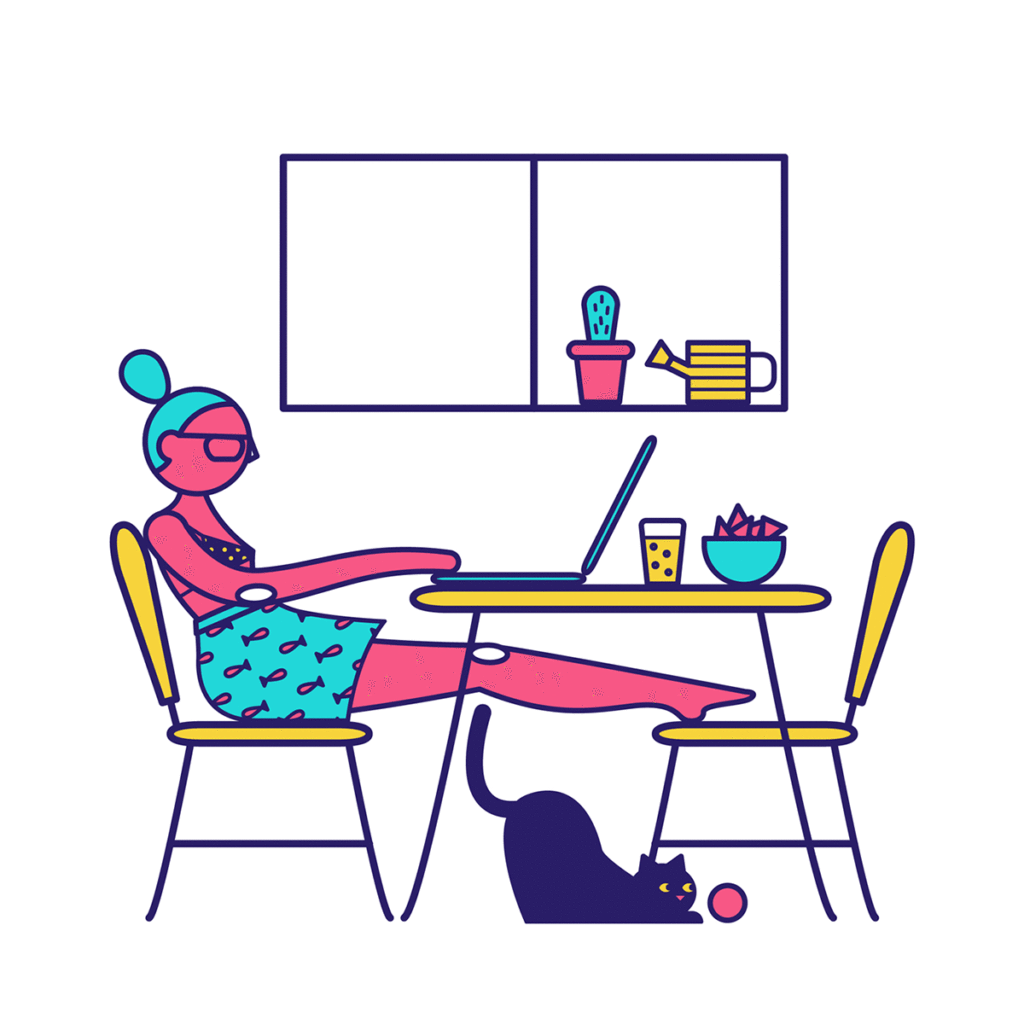 What do we love? The flexibility.
"Remote work enables our team to tackle projects and deadlines at their own pace, whether that's early in the morning or late at night when the kids are in bed," says Josie. "At the same time, it ensures that there is trust all around that deadlines will be met, and there is constant communication with everyone on the team about things that we can't afford to overlook when we're working remotely."
What do we hate? The isolation.
And for some of us, the silence, compared to the buzz of a coffee shop or in-person banter. We're used to getting our team and clients together in one room to brainstorm ideas and strategies. Nothing can beat that kind of productivity.
It helps that we're a team that has worked together for a while, knows each other's quirks, and maintains a sense of humor. We are all adapting and learning to be patient while recognizing that the current situation impacts people differently. If we believe in the science of how viruses thrive (and we do), we don't have a choice but to continue to socially distance and work remotely if we want to help bring this crisis to an end.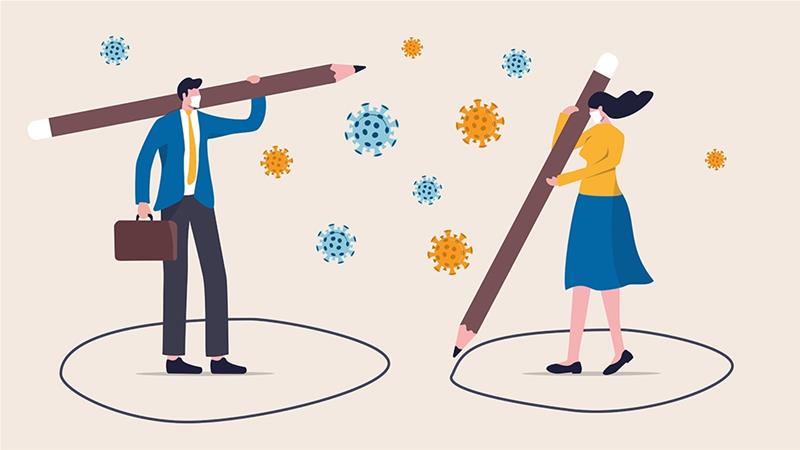 Even though the days may be a passing blur, we're getting down to business and reaching out to others. We're supporting our communities and our clients. We're calling and texting friends and family around the world. Jenny and her mom have even started mailing little drawings and paintings to one another!
What do we want to do when this is all over? Go out to eat. Have a drink at a bar. Hug our loved ones. Maybe hop on a plane or go get a manicure. To be honest, some of us don't know yet. What we do know is that in-person human contact is at the top of that list.
Check back with us for regular blog posts addressing the current crisis and our role in it. We'll be talking business strategy, cultural response, predicted trends, and more. Just remember, we're in this together!