Disaster Advertising Doesn't Have To Be A Disaster
As Hurricane Harvey wreaks mayhem in the Gulf, and Irma surges over the Atlantic coast, the idea of marketing your business to hundreds of thousands of consumers in affected areas may seem appealing. It's entrepreneurship 101: Problems create opportunities, right? Wrong.
Consider these responses to Hurricane Sandy in 2012:
Gap Inc. used the #Sandy hashtag on Twitter to tap into the news and promote online shopping.
American Apparel ran a series of targeted ads to those affected by the storm: "In case you're bored during the storm, 20 percent off everything for the next 36 hours."
A mass email distributed by Urban Outfitters offered up a clear message of brand priorities, reading "This Storm Blows, But Free Shipping on All Orders Doesn't."
The self-serving approach of these campaigns all backfired, outraging customers and attracting negative media.
"People that lost their homes, cars, and property and those trying desperately to help them could care less about these companies wanting to keep their doors open or generate business during the storm. Companies exist and prosper because they satisfy the needs of their customers. If they take care of their customers, the money will follow," writes Ira Kalb, author of the DNA of Marketing.
Kalb cautions, "In times of great need, people have exceptionally good memories. They remember those that help them, and they never forget those that try to take advantage of them."
communicating from the "outside-in"
Building goodwill and establishing trust with consumers is paramount in times of crisis. It's worth planning ahead to avoid the unintentional alienation of your target audience.
Take an "outside-in" approach by communicating a genuine and empathetic message to those affected by disaster. Consider how you are best suited to truly help a community in need, and how you can position yourself front and center in order to reach out and be of aid. Most importantly, show you mean it. Thoughtful brand leadership trumps disaster opportunism every time.
With that said, let's take a look at brands whose good deeds successfully resulted in goodwill in the aftermath of Hurricane Sandy:
Duracell sent "Power Forward" charging stations to Lower Manhattan to charge people's mobile phones and devices, in addition to providing free batteries for flashlights.
Tide (also a P&G brand), provided free laundry services on a mobile truck equipped with 32 washers and dryers.
"Tide has learned that the little things – like clean clothes – can make a big difference to those who have lost the comforts of home," Tide program officials said in a release.
That stands in dramatic contrast to American Apparel, whose CEO Dov Charney defended the company's decision to capitalize on the storm. "Part of what you want to do in these events is keep the wheels of commerce going," Charney told Business Week.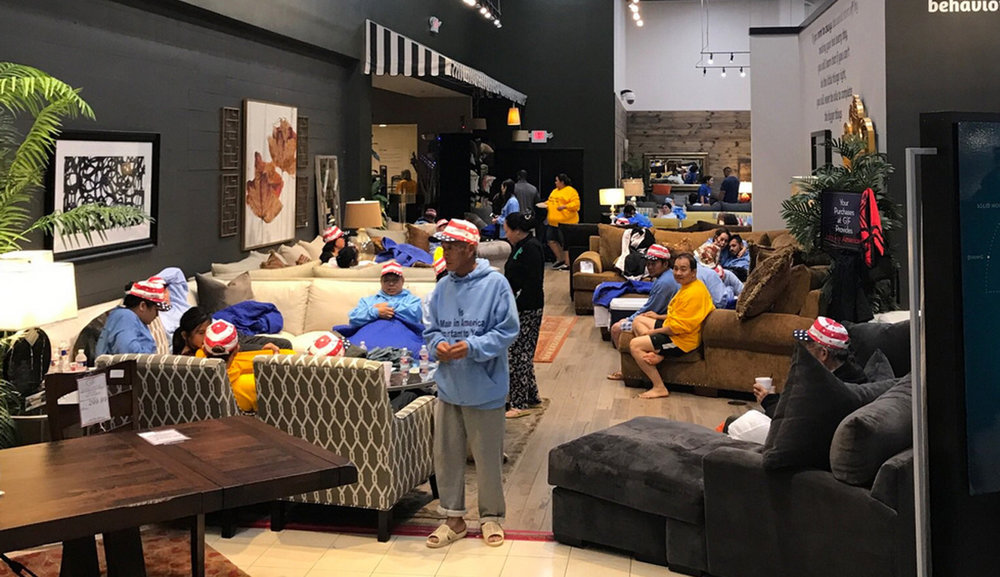 More recently, Anheuser Busch partnered with the American Red Cross to convert a significant portion of the beer-making operation to the canning and donating of fresh water for victims of Hurricane Harvey. Outdoor retailer Bass Pro Shops provided dozens of boats to assist with search and rescue efforts in the Houston area, and the Texas owner of Gallery Furniture converted two stores into emergency shelters for an estimated 800 people – a donated cost of $30,000 per day.
"They've taken a really big hit. It's time they have some TLC, and that's what we're trying to provide," said Jim McIngvale, also known as "Mattress Mack."
distance matters – or does it?
It's important to note that distance does not have to be an obstacle when developing a smart and sensitive market strategy during times of disaster. The Wisconsin Milk Marketing Board, funded by the Dairy Farm Families of Wisconsin, coordinated a statewide effort to send more than 17,000 pounds of cheese to Houston. This involved packing a delivery truck with smoked string cheese, cheese curds, muenster, parmesan, and cheddar – as well as 300 pounds of butter.
"We are deeply saddened by the devastation facing Texas residents in the wake of Hurricane Harvey," said Board Vice President Suzanne Fanning. "Our Wisconsin cheese makers and dairy farmers are inherently focused on helping others so we offered them a way to get involved."
A brand is only as great as the sum of its parts, from its employees to the impact it makes on consumers' lives – and true colors emerge in difficult times.
"How brands act during a disaster like Hurricane Sandy is a litmus test for meaningful brands," writes Tom Fishburne, a veteran marketer and cartoonist, in his Marketoonist blog. "Brands with a purpose stand for more than just a 20% off promotion or free shipping. They stand for their consumers."
developing a strategy before disaster strikes
Here are some useful tips for marketing your brand during and after a crisis:
Be Sensitive. Don't market aggressively or immediately, especially when lives are lost or at stake. Take care to gauge public sentiment.
Take a Break. Consider pausing current ad and PR campaigns, blog posts, newsletters, and email blasts. Refocus your efforts on coordinating charitable activities such as fundraisers, relief funds, volunteering, strategic partnerships, and donations. Be sure to suspend all direct mail marketing to affected areas.
Prep Your Data. Take ownership of your data – centralize strategic information so you can efficiently and effectively react to any unexpected circumstances, both locally or from a distance.
Elevate Your Marketing Strategy. Examining your up and coming campaigns, recurring ad copy, existing web content, and communication guides for messaging sensitivity. If possible, talk with clients about how they anticipate responding to a crisis and help them develop a strategy if needed.
Use Social Media Effectively. Digital communication can be your best – and worst – friend. It's also a critical tool at the height of a crisis and an important way to reach out and engage others. Make sure emergency updates can be easily shared via your website, social, email, and text.
Seek Opportunities. Communicate with your consumers – they are your biggest advocates. Talk with local organizations and government agencies to understand the best way for your brand to make a difference.
Marketing after a disaster may be perceived as self-serving, but if done correctly, you will make others aware that beneath the products and services, your brand understands the value of helping people to recover from a tough situation – without asking for anything in return.
"Brands constantly think about ways to place themselves in front of an audience," says Josie Davis, Owner and Creative Producer at Curmudgeon Group. Davis continues, "But there's a fine line between taking advantage of customers in tough situations, and socially-conscious promotion that leads to long-term engagement."