Creative Strategy and The Great Resignation
On March 11, 2020, the World Health Organization (WHO) declared Covid-19 a global pandemic — one that would change the world forever. Among its myriad effects, one trend emerged that became so powerful, it earned itself a name: The Great Resignation.
More than 38 million Americans quit their jobs in 2021, sparking concerns across industries ranging from transportation and teaching to healthcare and — of course — advertising. What's driving the movement?
While seasoned creatives flee traditional workplaces in search of meaning, inclusivity, and greater flexibility, ad agencies and their clients are looking for ways to replenish the so-called "brain drain." Perhaps the problem isn't so much draining of the talent pool.
Perhaps the tide is shifting.
The Great Resignation: Causes and Concerns
As lockdowns extended indefinitely and remote learning became the norm, millions of workplaces had to pivot, allowing their teams to work from home. Workers gained back the hours once spent commuting, enjoyed more time with their loved ones, and began prioritizing their mental and physical health over productivity. For many, this was their first glimpse at real work-life balance.
For many, a placid return to the grind of rush hour traffic and rigid work schedules seems out of the question. Ad agencies and clients looking to attract and retain talent need to gain a solid understanding of the issues driving the Great Resignation and respond accordingly.
Here are some of the biggest contributing factors:
Burnout — The stress of a dooming news cycle, persistent grief, and climbing case numbers prompted many workers to rethink their careers, prioritizing their mental health over burnout during the pandemic.
Employee Values — The police killing of George Floyd sparked a summer of protests, forcing America to take stock of its values and pushing the conversation around DE&I into the spotlight. Today, inclusive company values and meaningful work top the list of priorities as workers seek out new careers.
Flexibility — A survey by Bankrate found that 56% of Americans are prioritizing flexible work schedules, even if that means finding a new job.
How the "Big Quit" Impacts Ad Agency DE&I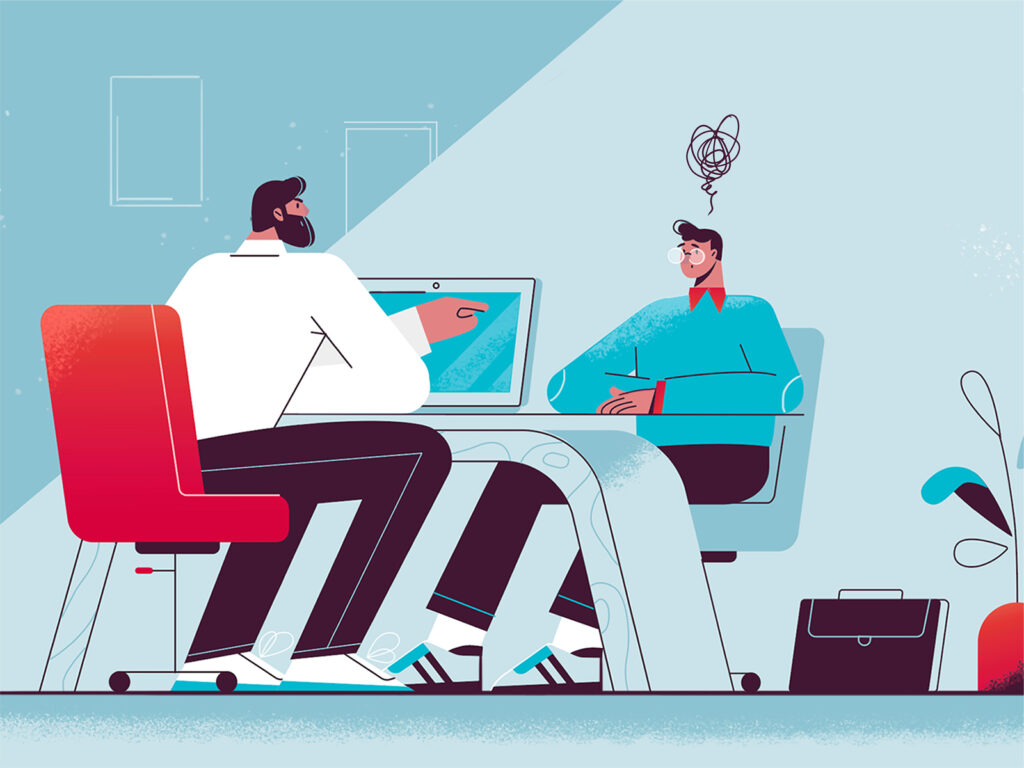 Image credit: Anastasia Golub on Dribbble
When seasoned advertising professionals leave ad agencies and in-house marketing teams, they take long-accumulated legacy knowledge, industry relationships and a storehouse of skills and ideas with them. This might seem like a disconcerting notion to brand and agency leadership, but any creative worth their weight sees a challenge as a disguised opportunity.
The creative talent pool is indeed shifting, but that's not necessarily a bad thing. A new bar has been set for DE&I practices — not only for ad agencies but for their clients as well.
With remote work as the norm, brands and agencies have access to a much more diverse set of candidates to fill current vacancies. An organization's ability to hire expert talent is no longer limited to the immediate, commutable area. Ad agencies and their clients have an opportunity to hire talent that's far more representative of the audiences on the receiving end of their advertising and creative production efforts.
Brand Messaging: Attract & Retain Diverse Talent
One thing the Great Resignation phenomenon makes clear is that organizations need to do more to attract and retain talent. A more holistic approach to mental health and combating burnout is essential. So is providing greater work schedule flexibility and allowing for location independence whenever possible.
In addition to authentic internal shifts in the way we do business, communicating company values will play a crucial role in attracting new talent in 2022. Organizations need to rethink their approach to advertising and brand messaging in a way that shows a true understanding of what employees and consumers value most in the wake of the pandemic.
Brand messaging — both consumer-facing and internal — needs to be authentic and backed up by action, rather than serving as performative advertising fodder.
To get brand communication right in 2022, organizations need to partner with ad agencies that understand and demonstrate an inclusive company culture that values empathy, sustainability and creating meaningful work.
Woman-Owned, Climate Forward
Curmudgeon Group is a leading boutique, woman-owned creative and production agency focussed on brands working toward a climate-resilient future. Since our founding, our creative work has been in support of radical change, inclusivity, and authentic representation. We carry these values into all we do, from the way we run this show to the organizations we partner with.
Ready to learn more? Get in touch with our creative team today.