Creative Messaging & Its Value In Supporting Ukraine
Since Russia invaded Ukraine more than four months ago, agencies and marketers worldwide have been standing up for the embattled nation and halting business with Russian companies in a unified show of support. Across Ukraine, too, creative messaging is working against a soundtrack of bombs and air raid sirens to broadcast the truth about the invasion, generate international support, and buoy the spirits of their people.
Even in the darkest times, art and creativity emerge as a means of survival and hope. And if there was ever a case of the glass being half full, this is it: Ukrainian creatives have made connections to the outside world in ways that may launch their work to international heights not seen before. Their work is also finally being recognized as distinctly Ukrainian after decades of being mistakenly identified as Russian — despite having independence since 1991 and a Ukrainian Advertising Coalition since 1997.
Most recently, Ukrainian creative agency Banda, based in Kyiv and Los Angeles, won a Silver Lion in the Design category at this year's Cannes Lions International Festival of Creativity for its disappearing Chornobyl logo. Volodymyr Zelensky, the Ukrainian comedian-turned-president, called on creatives to use their talents as allies in the fight against Russia.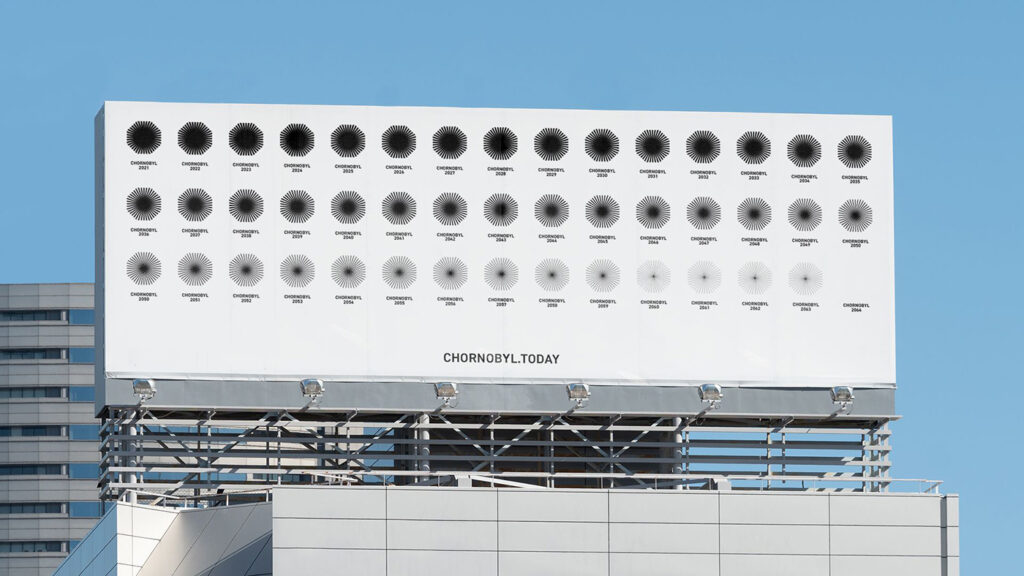 "You are the most creative people in the world – always on the cutting edge," Zelensky said in a video address to Cannes attendees. "Whether it's the Refugee Flag or the Fearless Girl, the Ice Bucket Challenge or the Rivers of Light – every time you find words and images to reach the depths of the human soul, you make people talk about issues everyone would otherwise overlook."
And a Ukrainian media market manifesto backed by major holding companies, media owners, and independent agencies called for the global market to support Ukraine. "There is no more advertising or market competition in Ukraine. We are all united by one goal – save our homeland, our nation, and our culture. All our businesses are now struggling to support the Ukrainian economy & people," the manifesto reads.
Committed To The Cause Through Creative Messaging
Though many creatives had to leave their homes when war broke out, others remain committed to their cause and work. Before the invasion, Ukraine's advertising and communications industry was blossoming but was still primarily limited to the local market. Now, design and production companies are racing to create new opportunities and ventures with creatives abroad because so many businesses have closed at home.
"We can't predict how things will be. No one can. But we do know that there can be no next steps without true collaboration and integration," Hanna Rudenko, lead editor of Adweek's special April 2022 Ukraine issue and editor-in-chief of SKVOT MAG.
Design agency Spiilka Design Büro, for example, offered its services to international developers that lacked in-house art directors and design studios that focused on scaling brand identity for digital products. Ukrainian team members had to assure their partners that the job would get done, and it did — effectively and in even less time than before, said co-founder and design director Nastichka Zherebetska.
Many in the industry have poured their energies into united, partisan efforts to tell the truth about the war and encourage resistance. From messenger apps to motivational videos, they spread the story of the invasion. It's not the first time Ukrainians have exhibited a knack for exceptional and innovative creative messaging.
Consider:
A pop-up restaurant called Uncounted Since 1932 opened in Tel Aviv and Brussels five years ago. Created by the Ukrainian Leadership Academy with Kyiv-based Gres Todorchuk Gres Todorchuk PR and communication agency, the Effie Award-winning initiative raised awareness about the Holodomor, the Soviet-era terror famine that killed millions of Ukrainians. The menu featured pinecones, tree bark, and ground grass—the only food starving Ukrainians had to eat.
The Angry creative agency in Ukraine partnered with patrol police to mark "Parking Spaces for Ticket Lovers" on 100 illegal spots across downtown Kyiv. The campaign won ADC*E Europe's Silver Award.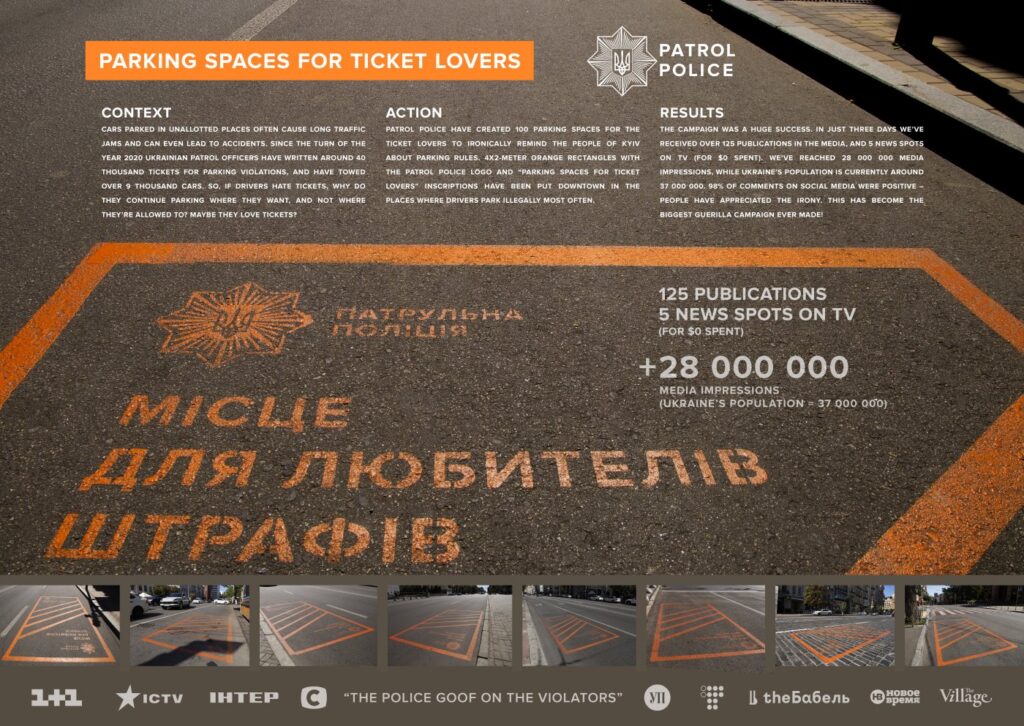 Today, projects by the Ukrainian agency Banda and others are trying to deliver the truth about the war and end the bloodshed. From within the war zone, the agency even developed the nation's brand from within the war zone: "Ukraine Now."
"There is a team we jokingly call Banda Black because some of our creatives aimed to get Russians to question the truth of their TV," co-founder Pasha Vrzheshch told AdWeek. "As we tracked the results, we read how Russian authorities had denied our messages. They said the U.S. intelligence was behind it. But there are no secret services—just Ukrainian copywriters and designers who sit in bomb shelters."
Banda released its first film just days after the invasion highlighting its impact on the country. A second video expressed gratitude to the international community. Another campaign — The Brief: Prevent WWIII — uses the familiar marketing campaign brief format to spread messages such as, "The Russian War against Ukraine is the beginning of war in Europe and around the world."
Now in more than a dozen countries, those messages and others are on billboards across Europe and U.S. cities such as Milwaukee. Together with the Ministry of Digital Transformation, Banda also launched a campaign about the bravery of the Ukrainian nation. Ukrainians are still fighting — and holding off Russian troops in many places that were expected to fall within days.
Efforts to showcase Ukrainian heroism over suffering are welcome these days. A video of a woman shooting down enemy drones with a can of tomatoes became more popular than a video of children trapped under rubble. "It's a mixture of fantastic heroism and humor," Liubov Tsybulska, founder of the Center for Strategic Communications and Information Security in Ukraine, told AdWeek.
"The content about our military is already tearing up social media because—it turns out—we are extremely self-ironic."And, as Zherebetska of Spiilka Design Büro, wrote: "Ukrainian creatives can deliver under circumstances that would make others give up work completely."