The Wetlands Initiative
After celebrating their 25th Anniversary, the Wetlands Initiative approached us to lead the strategic design and creative production their first official brand awareness campaign.  Beginning with strategic workshops and ending with a full-blown campaign involving OOH, social platforms, web and print media, we brought the flora, fauna and science of the wetlands to life for younger audiences throughout the Chicago Metro region.
Project
Industry
Services
Environmental Advertising
Out of Home Campaign
Print Media
Social Media – Digital Campaign
Landing Page Design
Copywriting and Art Direction
About the Client
The Wetlands Initiative is dedicated to restoring the wetland resources of the Midwest to improve water quality, increase wildlife habitat and biodiversity, and reduce flood damage.   Our vision is simple:  Wetlands are more valuable wet than dry.  For years, many believed that wetlands were more valuable dry than wet.  With more than 90% of Illinois' original wetland systems now drained or degraded, we focus on returning healthy wetlands to the Midwestern landscape to bring back the crucial natural services they provide society, wildlife, and the larger environment. 
website
Testimonial
With the Curmudgeon Group team, we've already completed several executions across direct mail, social media, and out-of-home–each of them marked by eye-catching, vibrant visuals and smart, witty copy.
What has made the campaign most special is that we are all learning from one another: Katy, Josie and Jenny about ecological restoration, and the Wetlands Initiative about expanding how we convey our mission and values. On top of their eco-creativity, it's their willingness to engage in such a collaborative process that makes them stand out for us.
The Challenge
TWI faced an overwhelming lack of awareness toward the critical function of wetlands in the Midwest, along with misconceptions around what these ecosystems are all about. 
The Opportunity
The campaign was an opportunity to destigmatize wetlands and build excitement and pride among new, younger audiences as they discover the ecological value of the Midwest region, while promoting the critical need for diverse wetland ecosystems through a playful yet science-based messaging approach.
Our Approach
We couldn't wait to dive in.  Building awareness around a science-and-engineering based organization meant working diligently to create content that accurately reflected the the Midwest wetland landscape.  Our goal was to translate the science and hard-data of wetlands into a playful,  multi-touchpoint campaign that sparked both laughs and learning. 
As part of our initial work with the client, we designed a series of facilitated, strategic workshops with staff and board members.  This initial work resulted in a comprehensive strategy deck, audience lifecycle map and audience personas, securing buy-in while developing a strategic foundation for the campaign and the creative development that followed.  We launched in February 2022 with a digital campaign, leaning into the month of love with letters of adoration between species.  The campaign continued into the spring as part of American Wetlands Month, including a Chicago CTA train takeover, ongoing social engagement and a fundraising print piece. 
Out of Home
A six-week out of home campaign launched in May 2022 across the Chicago CTA Blue Line, featuring three vital wetlands species proclaiming their best assets, or humble brags.  A close-up look gave onlookers the chance to admire, and learn about, the wetlands neighbors that live right next door.  We kept things fun with playful copy and bright, bold colors, catching the eye of riders both on and off the train.  A combination of interior cards and digital signage featured three different visual themes:  insects, amphibians and waterfowl, with direct calls to action, QR codes linking back to the campaign landing page.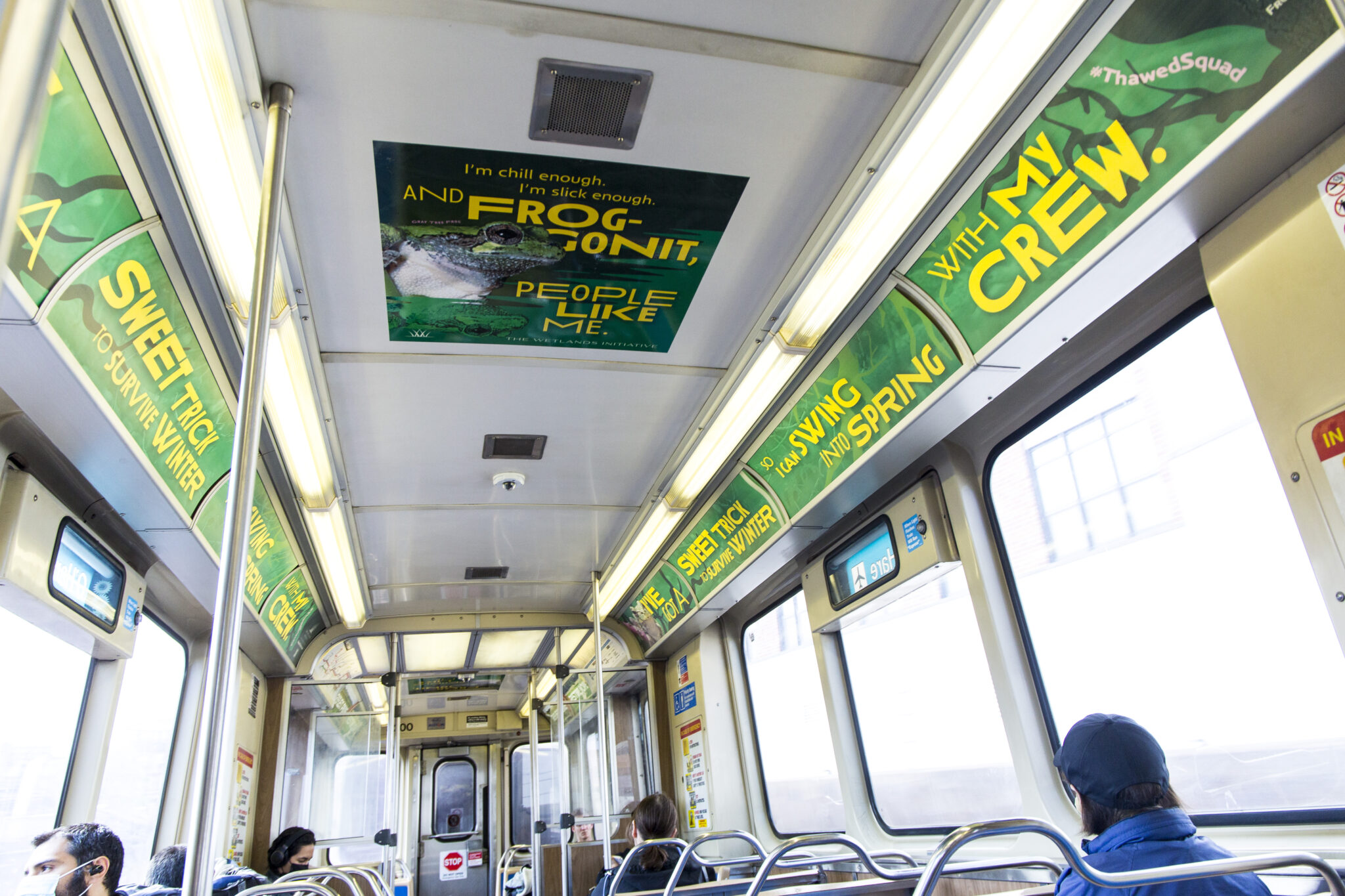 Social Media Campaign
Based on little-known scientific facts, the online social component of our May digital campaign expanded on our OOH content, with cheeky content and fun facts from wetlands wildlife reflecting on their best features, sharing stories and reels of what makes them just so awesome.  We invited audiences both young and old to share the things they love about our marsh neighbors, validating that "yes, you are beautiful."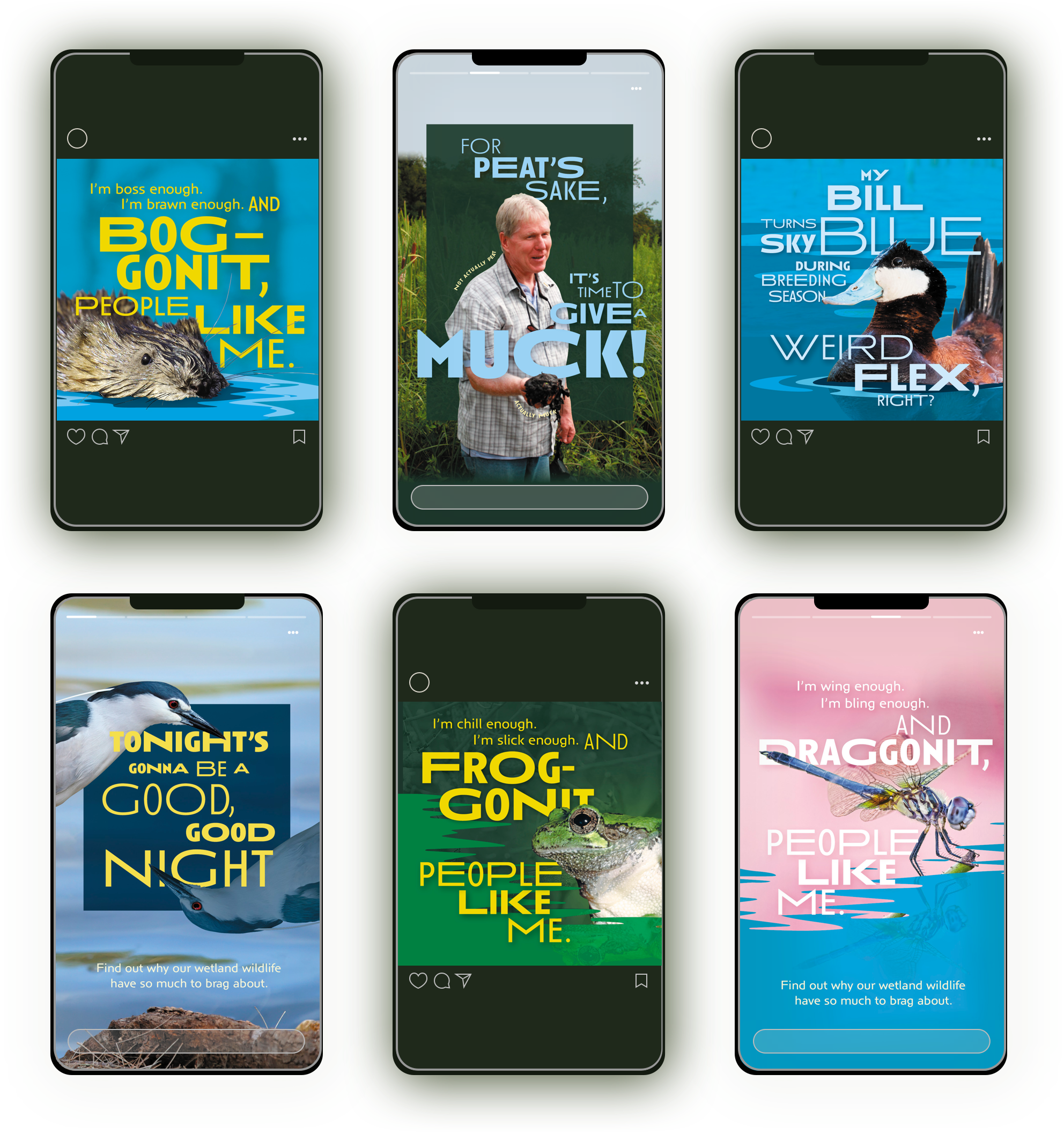 Print Materials
To help strengthen the organization's broader appeal, TWI asked us to incorporate the look and feel of the campaign into their annual marketing materials.  We began a custom print insert included in their first ever mass mailing, distributed in May as part of American Wetlands Month, followed up with the 2021 Annual Report.  These pieces leveraged their most expansive mailing list and donor database to date, bringing the TWI name into the homes of thousands of new potential supporters and advocates.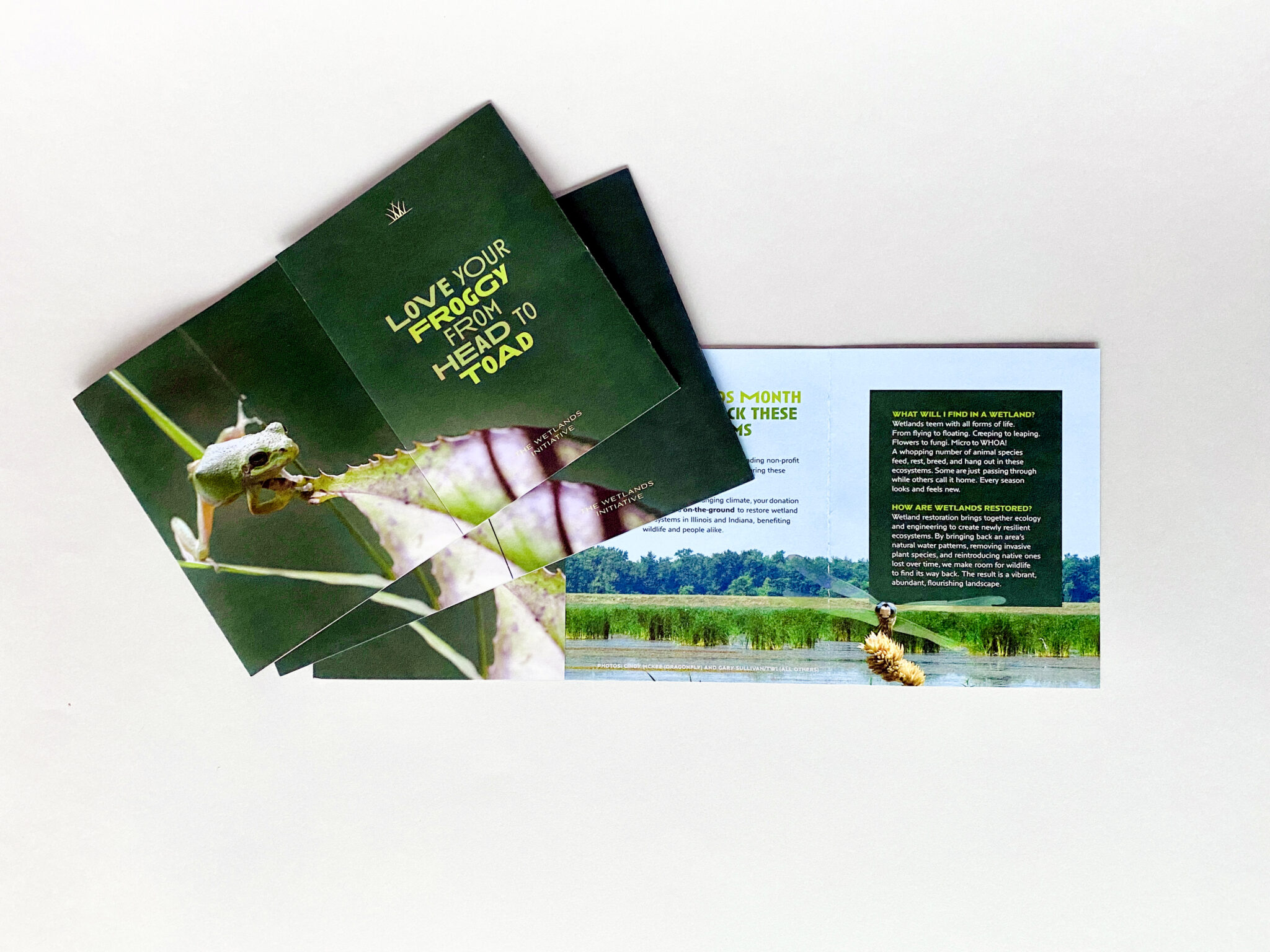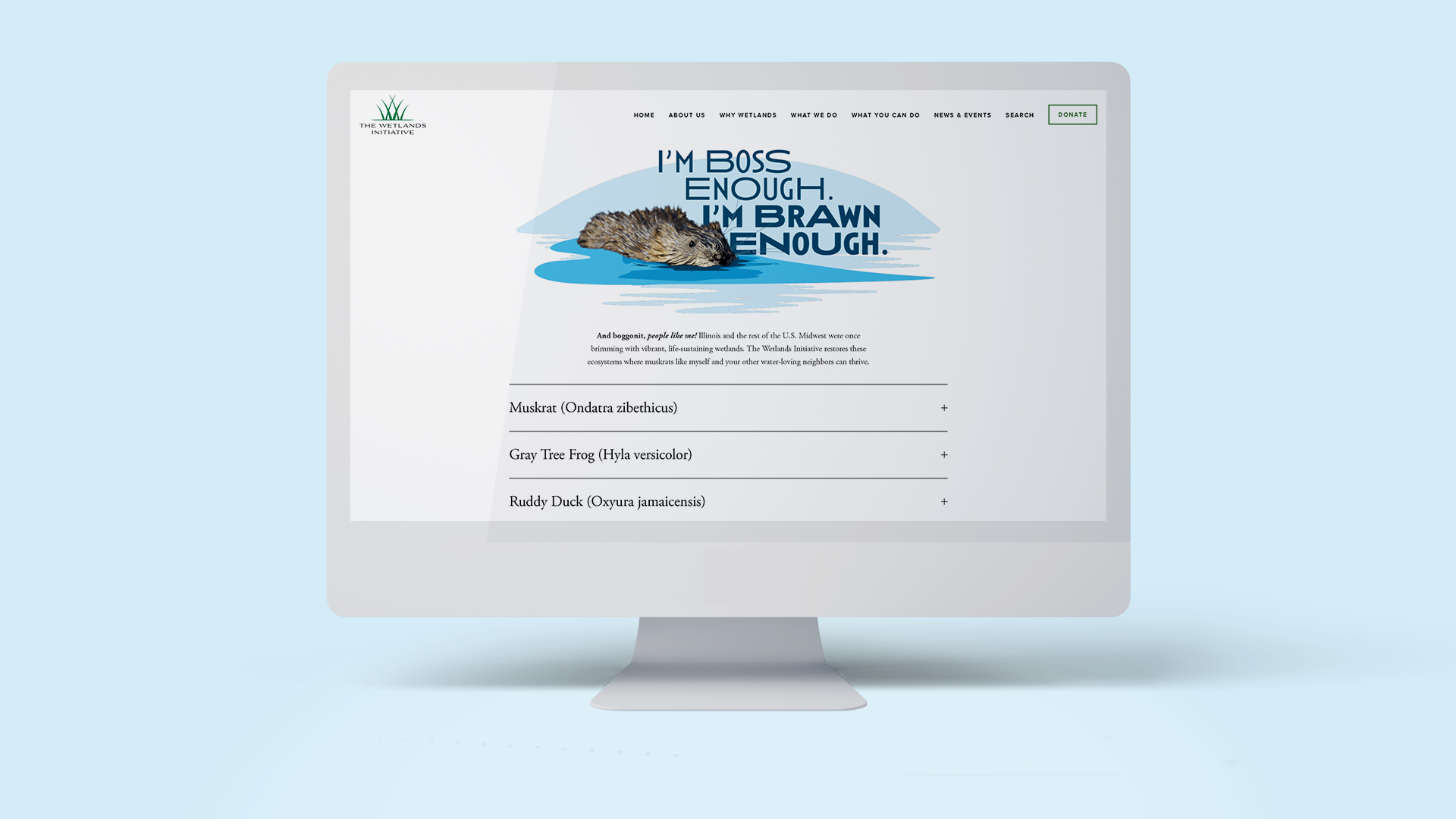 Landing Page
In an effort to create a cohesive, integrated experience across all channels during the campaign, our team designed and built an intermediary landing page consistent with the messaging and feel of the core campaign materials.  The landing page helped usher visitors to the main TWI website while providing key calls to action and facts about the organization, featured species and what makes wetlands so critical to the region.   The landing page also housed the Eco-Harmony Compatibility Quiz, which successfully increased the time visitors spent on the landing page engaging with the brand. 
Social Media Campaign
We kicked off our February social campaign on World Wetlands Day.  Leaning into the month of love, we featured letters of adoration between our favorite wetland species, expressing their "buggy love" for all the world to see.  Each love note provided educational content around the benefits and beauty of biodiversity and wetland ecosystems.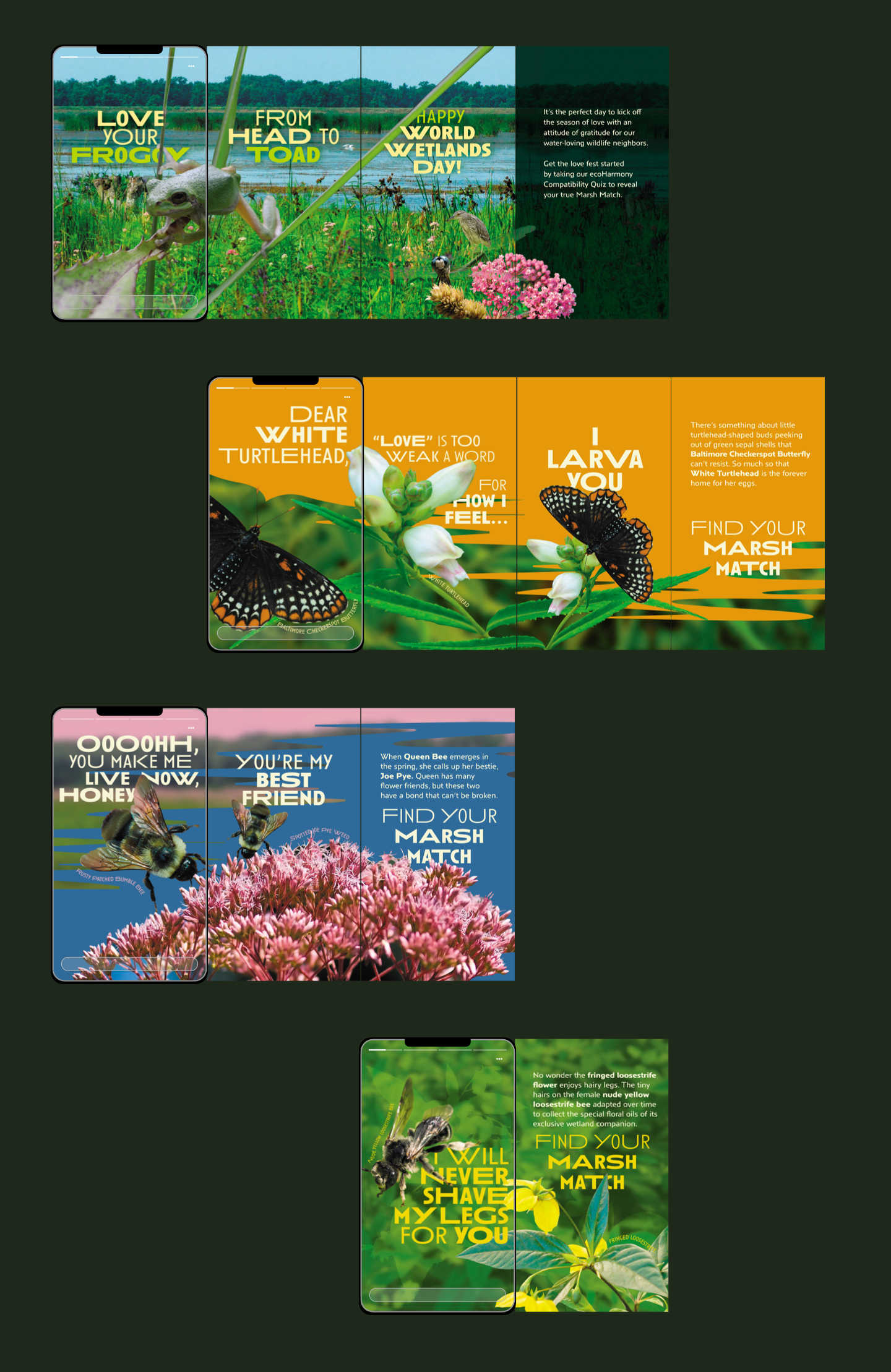 Wetlands Bumble
As part of the February digital campaign, we drew inspiration from the Bumble dating app to give a handful of species their very own profiles.  The posts encouraged audiences to "swipe right," engaging with species by adding their best pick-up lines in the comment section.  Shortly after Valentine's Day, we picked our favorite one-liners and posted responses online in the voice of each species.  Who knows, it may just be love. 
The Results
The campaign successfully reached a target audience in the younger (25 – 40), well-educated, full-time professional and white-collar demographic. The campaign reached an audience skewing slightly female, which was in line with early strategic predictions.

Both interior cards, digital signage and brand train takeovers for the Chicago CTA saw combined impressions nearing 6MM.  Despite a restrictive digital ad spend ($2K), we saw an increase in digital engagement of 27,000 and a digital reach of 708,000.  Despite the elimination of paid ad spend on Twitter for the May-June campaign period, we saw over 1K organic profile visits in the first half of May alone. Similarly, we saw a landing page traffic steadily continue throughout the campaign, with over 3,000 visitors. 
out of home impressions
6 Million
digital reach
76,000
landing page visits
3,000