United Way of Metro Chicago
After relocating to Chicago's Merchandise Mart, United Way of Metro Chicago sought to create an office environment that brought the vibrancy of the communities served into their new downtown space while showing visitors what community looks like and what the word truly means to United Way.  As part of this move, United Way of Metro Chicago approached us to design and produce a large 49' x 9' mural incorporating both the external hallway and interior office entrance, creating a colorful, fresh and inviting brand experience that told the story of United Way from the moment people exited the elevator doors. 
Project
Industry
Community and Social Services
Health and Education
Nonprofit
Services
Painting and Illustration
Concept and Design Direction
Production and Install
About the Client
United Way of Metro Chicago is a nonprofit organization that mobilizes private and philanthropic support and public sector resources to ensure our neighbors meet their basic needs and support our agency and community partners' goals for transformation in their neighborhoods.  We bring together businesses, government, nonprofits, and agency and community leaders to deliver funding, resources and expertise to nonprofit organizations across greater Chicago.  We work alongside our partners at the neighborhood level to tackle the systemic issues that have plagued our region, creating communities where children and families can thrive. United, we are building stronger neighborhoods for a stronger, more equitable Chicago region. 
website
Testimonial
When United Way of Metro Chicago moved our offices to The Merchandise Mart, we had an opportunity to shift how we work in and use our office space. We hoped to create a workspace that provided a strong sense of community while bringing the energy of the communities where we work into our new space. We are beyond thrilled with the final mural that welcomes guests to our office suite. The beautifully curated artistic design and detailed production management of the team at Curmudgeon Group resulted in a mural that exceeded our expectations and truly reflects the vibrancy and diversity of the many neighborhoods across the city and suburbs where United Way works to build a stronger, more equitable Chicago region. 
The Challenge
To produce a mural for an organization tasked with responding to the evergreen challenges of poverty and inequality, serving as a call to arms for humanity to work together and support one another as neighbors.
The Opportunity
Serving thirteen designated communities with impact reaching far beyond the immediate region, United Way of Metro Chicago deserved a mural that highlighted just a few of its luminary acts.  The mural was an opportunity bring the outside in, moving away from a detached, corporate office environment while creating a new space that fostered community and reflected the communities being served. 
Our Approach
We wanted to give stakeholders a better understanding of the diversity of the region through vibrant and colorful representation, making individuals feel welcome and energized by the work and transformation taking place within their communities.  We worked closely with the Director of Marketing and the Director of Human Resources to identify key neighborhoods and landmarks before landing on a final design and visual treatment.  Local artist Stephen Flemister was commissioned for the piece, bringing a deep-rooted sense of community and creative vision to the project.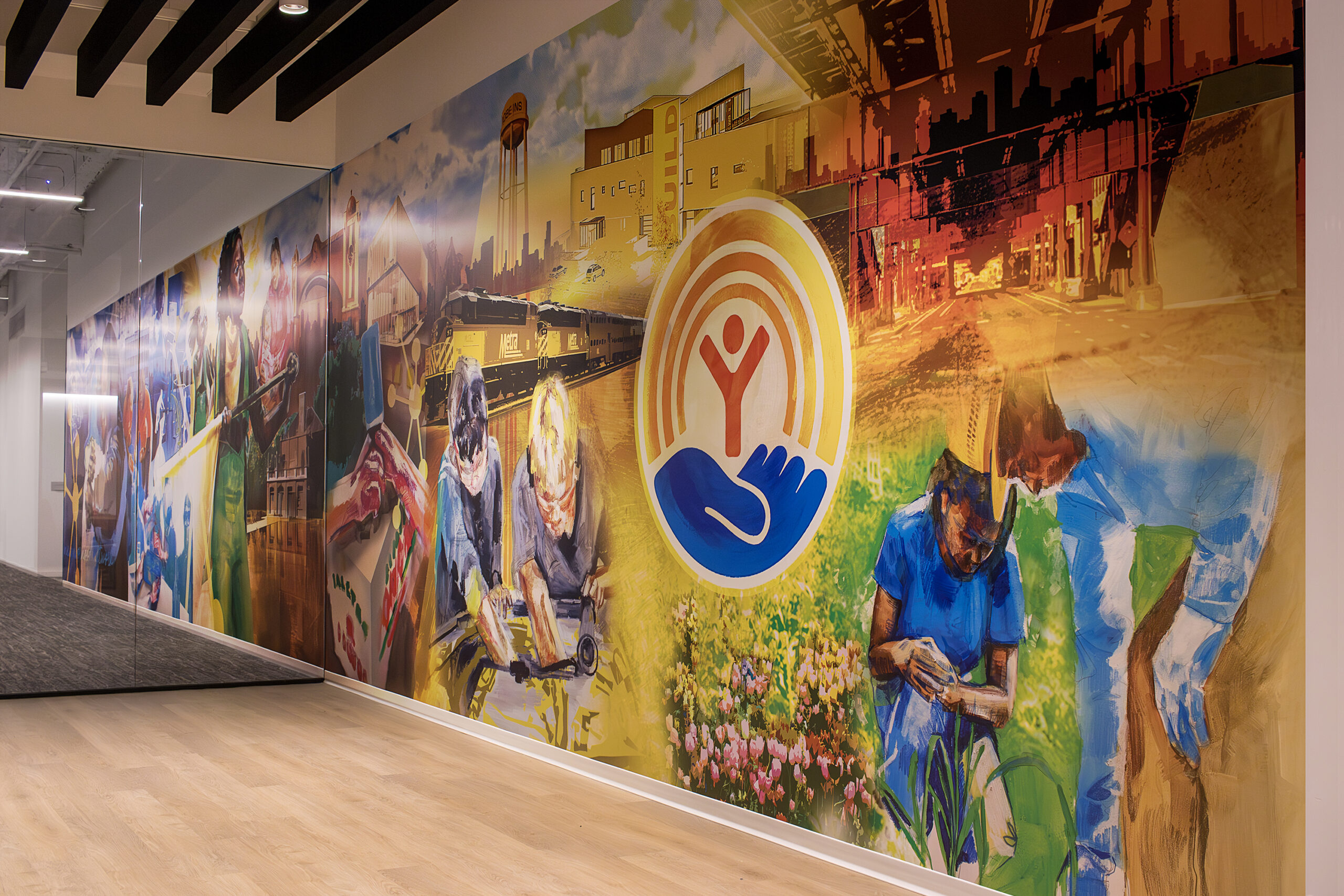 The Concept
The mural presents a detailed portrait of familiar faces, actions and landmarks from neighbors and neighborhoods served by the organization.  Brought to life through digitally-enhanced painting and illustration, the mural illustrates progress against a background that binds each of the graphic elements together with energy and movement.  Designed as an energetic, welcoming visual statement piece, the mural welcomes individuals and communities from across Chicago into the United Way offices, increasing the collective investment in and commitment to the organization's mission.
Visual Treatment
We made use of the United Way brand colors (blue, red and gold) and logo to create a bright, energetic color palette and branded motif.  A mixed media application of reprinted drawings, painting, collage and archival photography allowed for greater details during the design process, with the final work rendered at full-scale with minor graphic enhancements.  From the first step off the elevator door, the mural radiates with bold, vivid colors, luring in visitors while making them feel at home as they see their own story reflected in the space.
Community As Hero
Communities work as the "heroes" of the mural, brought to life through full-scale portraits that draw viewers closer to a story that reflects their own community experience.  Working together, these portraits represent the multitude of United Way neighbors, neighborhoods, occupations, ethnicities and culture served, reminding viewers that while each neighborhood has a distinct character, we are all connected.  
The mural became an extension – and reflection of – United Way community partners, while energizing a broad and diverse range of major gift donors in a space ripe for donor cultivation and stewardship.  With a youthful staff working in a hybrid model, United Way of Metro Chicago was very conscious of designing a space where staff looked forward to coming to work and felt a part of something bigger than themselves. 
A Helping Hand
The gesture of the "helping hand" is carried out through the piece as an expression of a labor of love, embodying the United Way logo while illustrating the act of giving and receiving and the core value of compassion stemming from the organization's mission.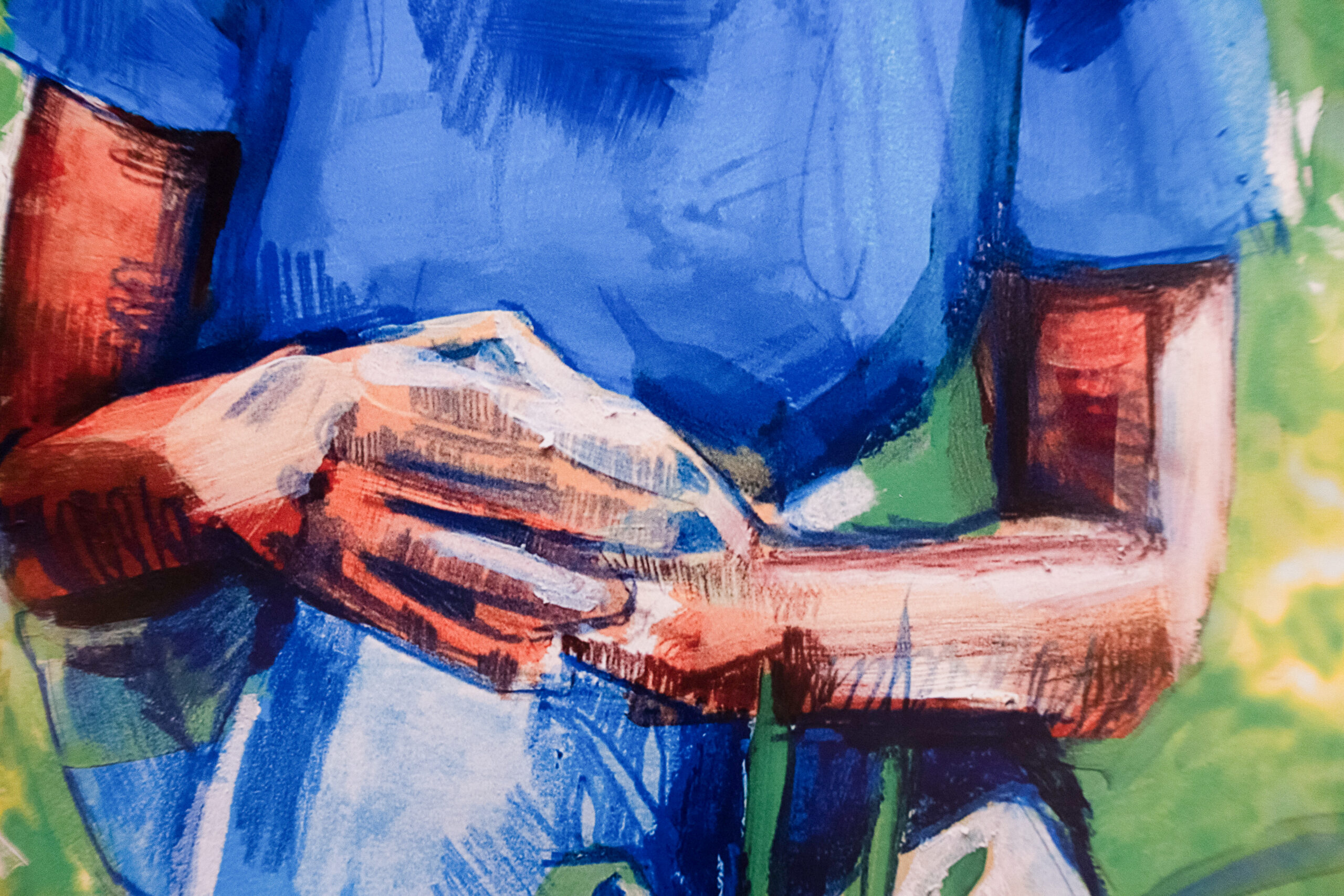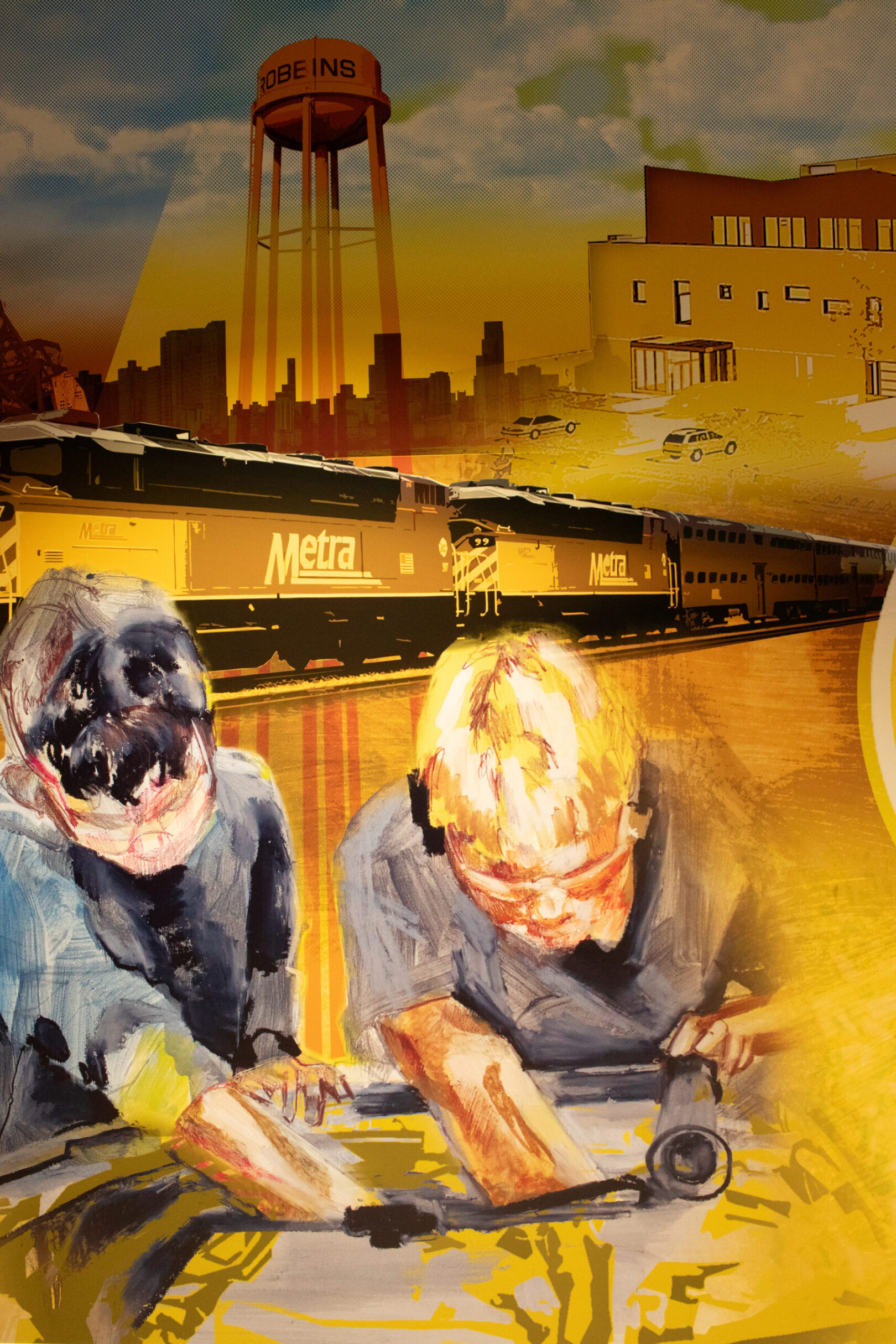 The Results
The full 9' x 40' mural was installed using vinyl application in mid-August, in time for the United Way of Metro Chicago open house in early September.  The mural incorporated over 20 portraits, buildings and neighborhoods from across Chicago and the surrounding suburbs, connecting the United Way of Metro Chicago communities to the downtown office in a fresh, energetic, visceral and welcoming experience. 
"This mural moved me. I can see my United Way career reflected in the design."