University of Illinois Chicago
The ERC hit a key milestone in the spring of 2020 with the completion of the Illinois Monarch Action Plan.  At the same time, they saw a need for a cohesive communication strategy to support their next phase of work.  Curmudgeon Group came on board to develop a fresh, colorful, yet professional website and brand story that united multi-agency stakeholders as well as the public, with the goal of inspiring and prompting action on behalf of this iconic species.
Industry
Environmental Services
Wildlife Conservation
Non Profit
Higher Education
Utilities
Transportation
Services
Creative Strategy
Brand Identity
Copywriting
Art Direction
Web Design
Environmental Advertising
About the Client
The ERC is an interdisciplinary public service, research, and special projects organization that works to improve energy efficiency and the environment.  The Energy Resources Center at the University of Illinois Chicago provides comprehensive and cutting edge solutions for energy and environmental challenges in the institutional, industrial, and commercial sectors.  For over thirty years, the ERC has made significant contributions to the fields of energy conservation and production technologies, helping to create a cleaner and more sustainable environment. 
website
Testimonial
The website is more beautiful and engaging than we ever dreamed!  It has really reinvigorated our outreach work and given us something we are proud to direct our stakeholders to as a one-stop-shop for monarch conservation in Illinois.  Curmudgeon Group was responsive to our needs and consistently delivered high-quality results.  They went above and beyond to produce a product that will build brand awareness and serve us for a long time.  Everyone at Curmudgeon was fun to work with, and embraced our project and mission with enthusiasm and excitement.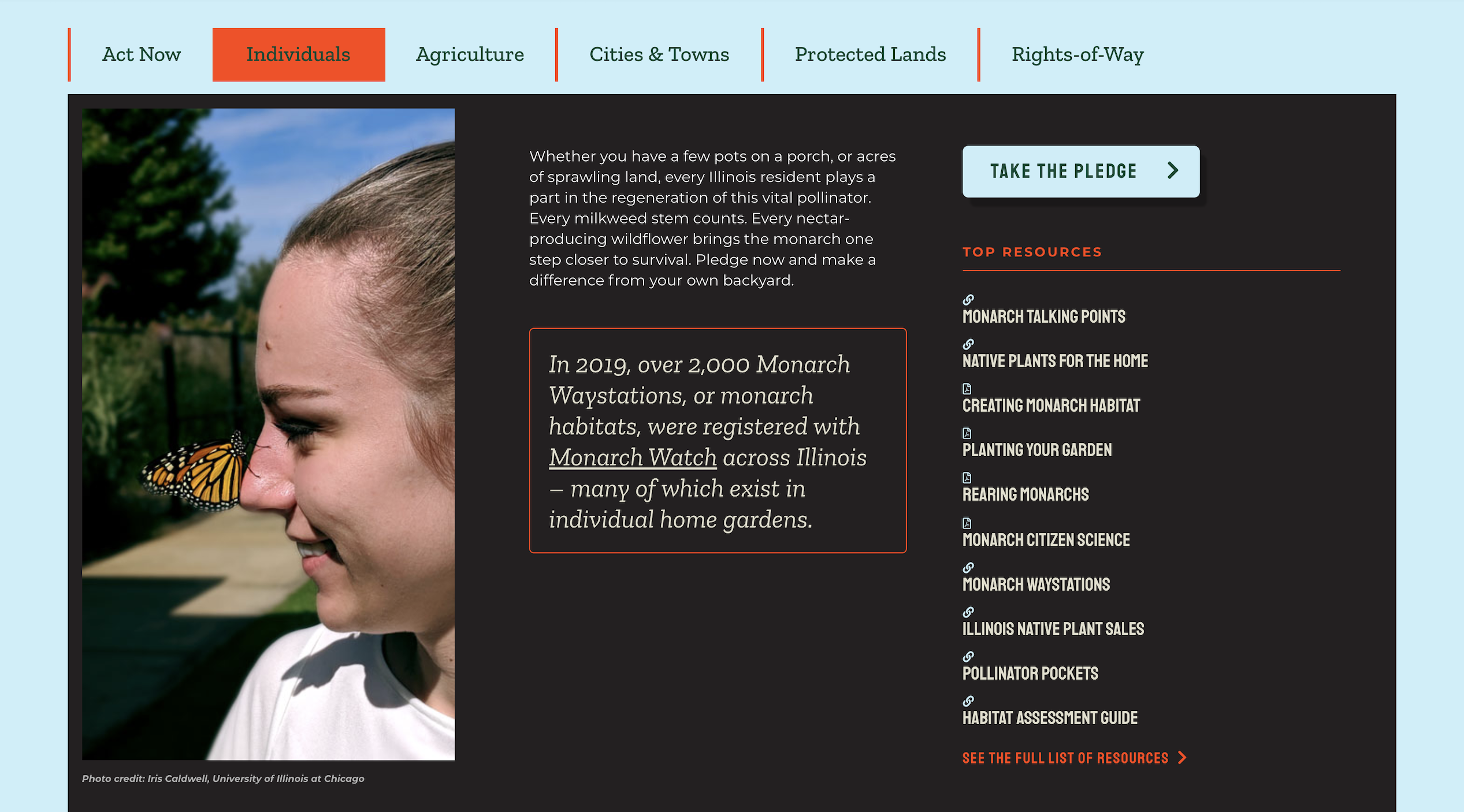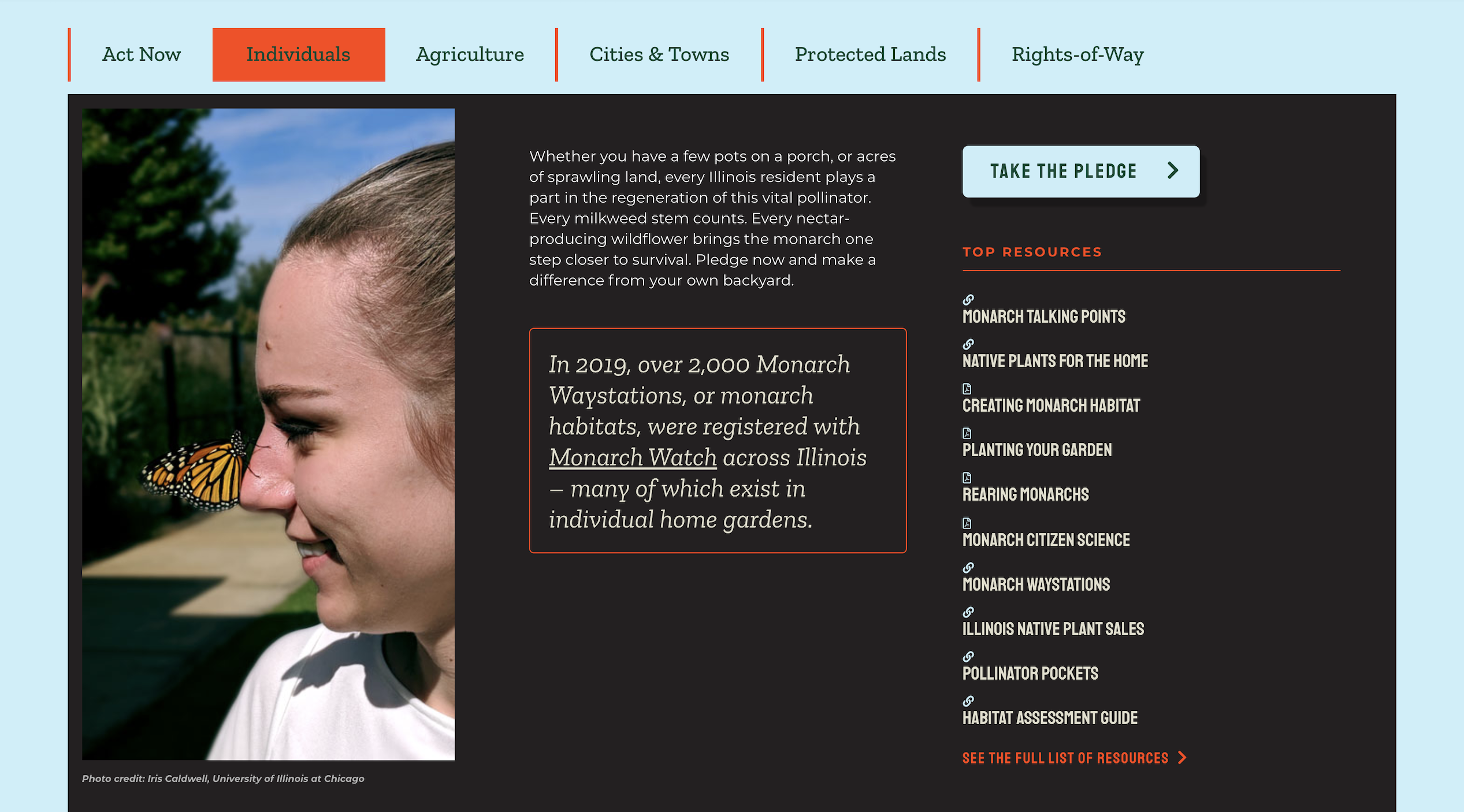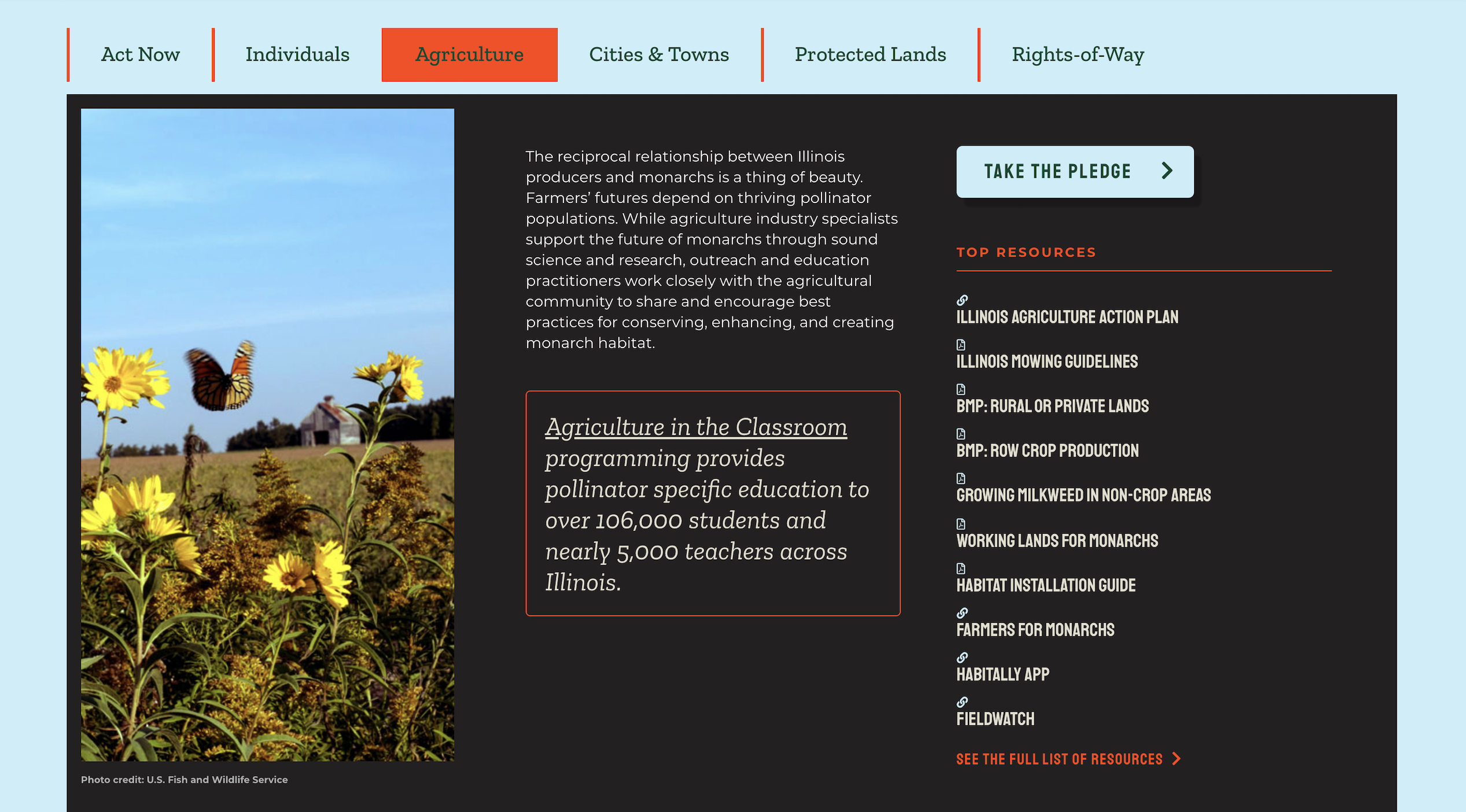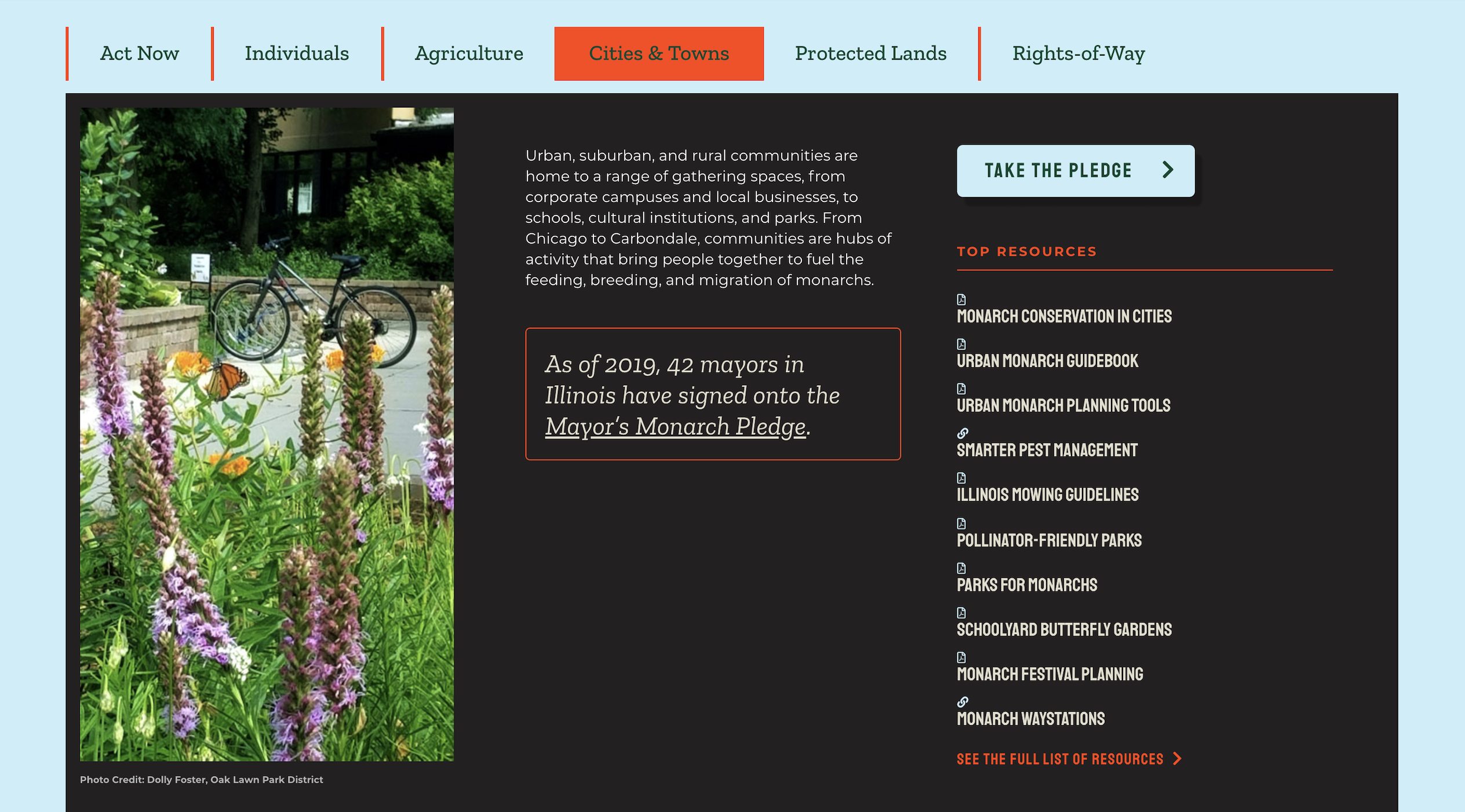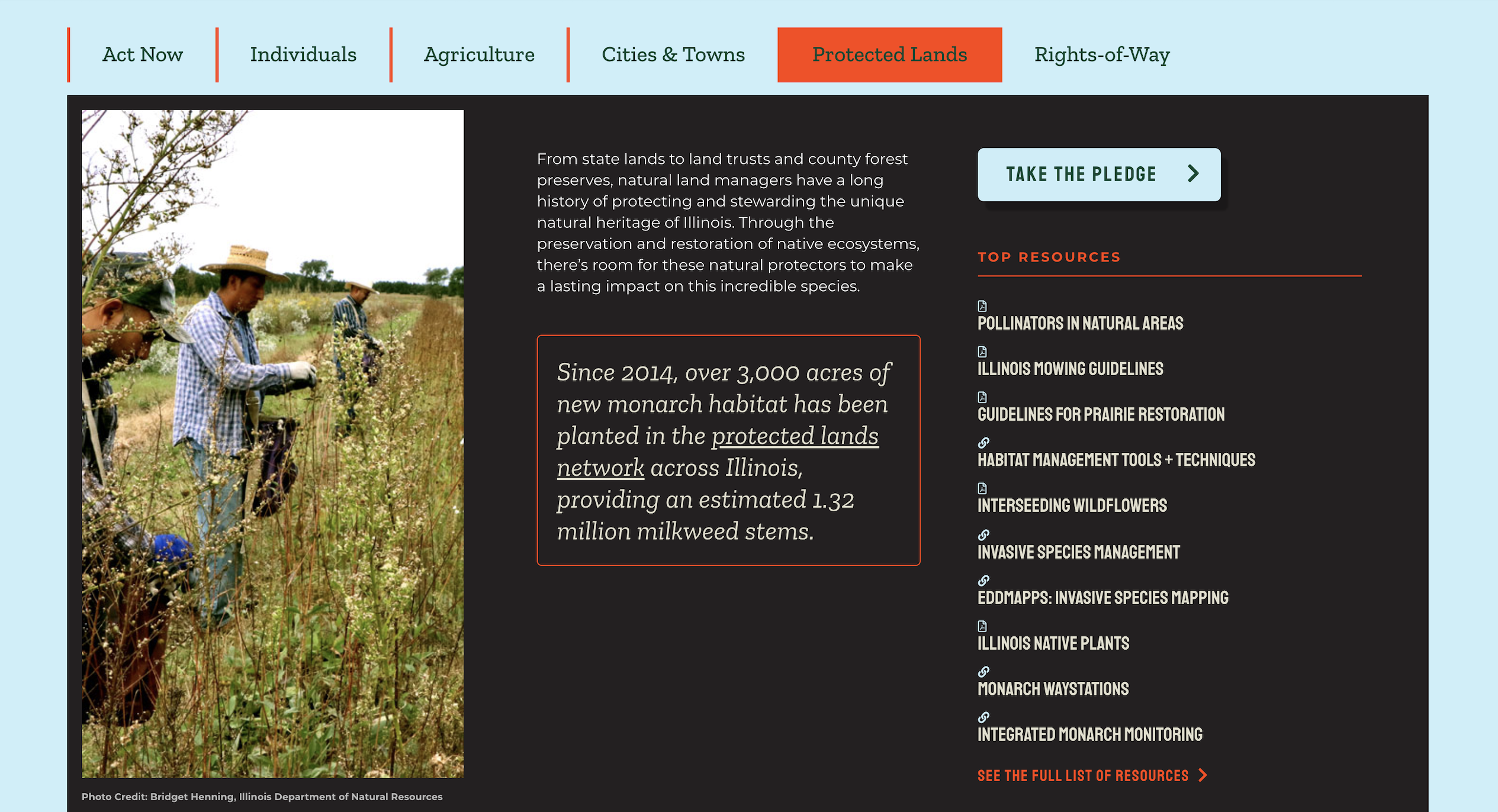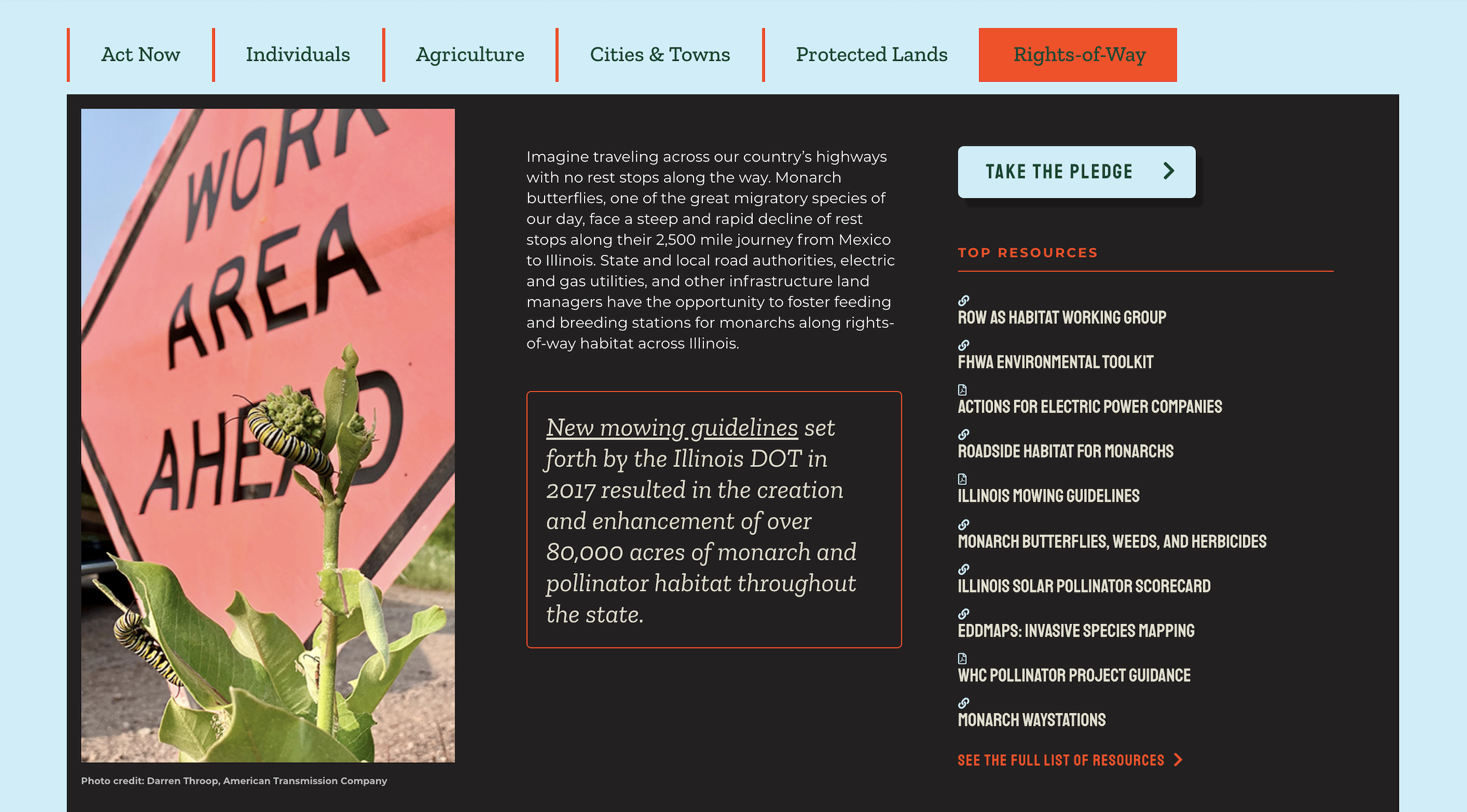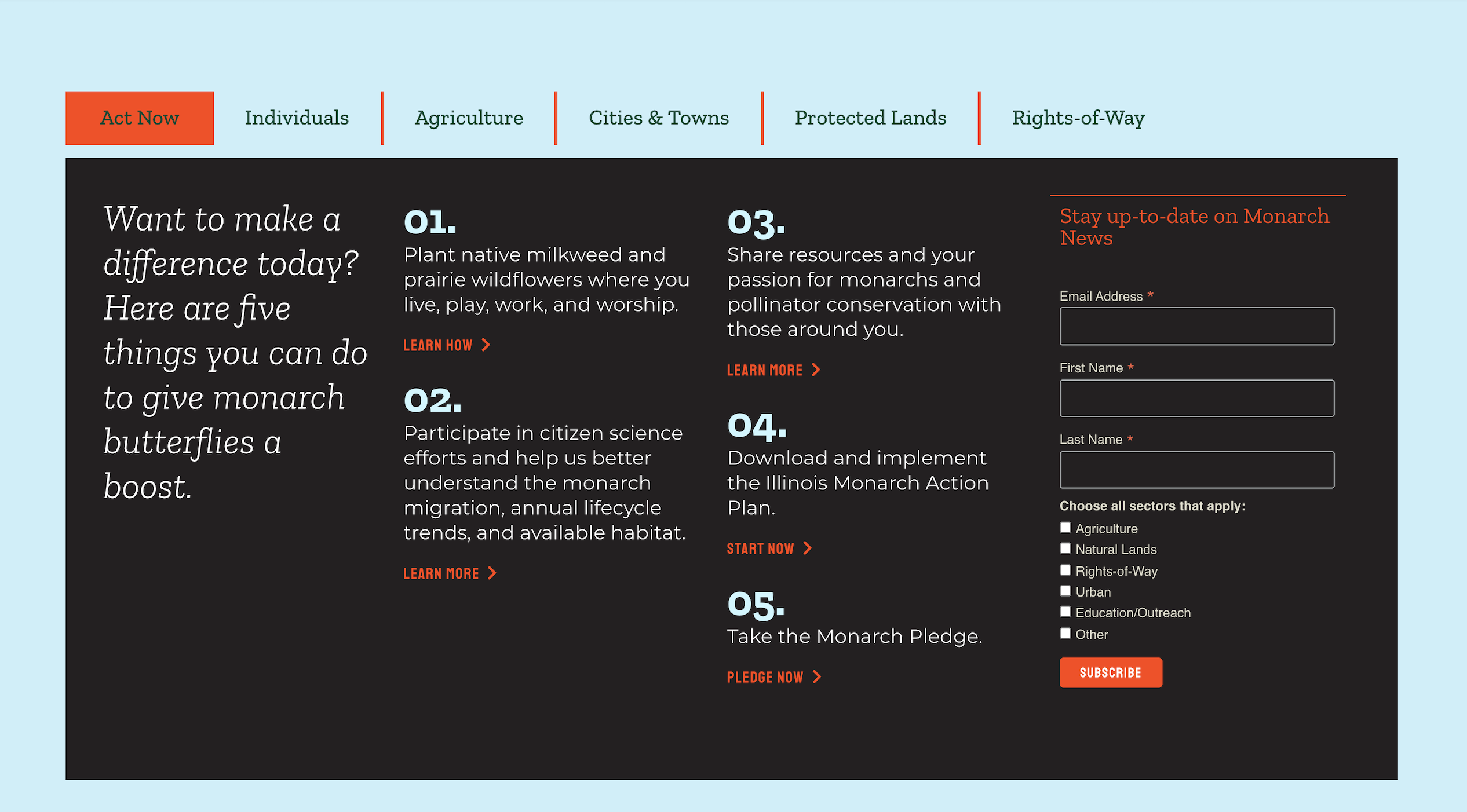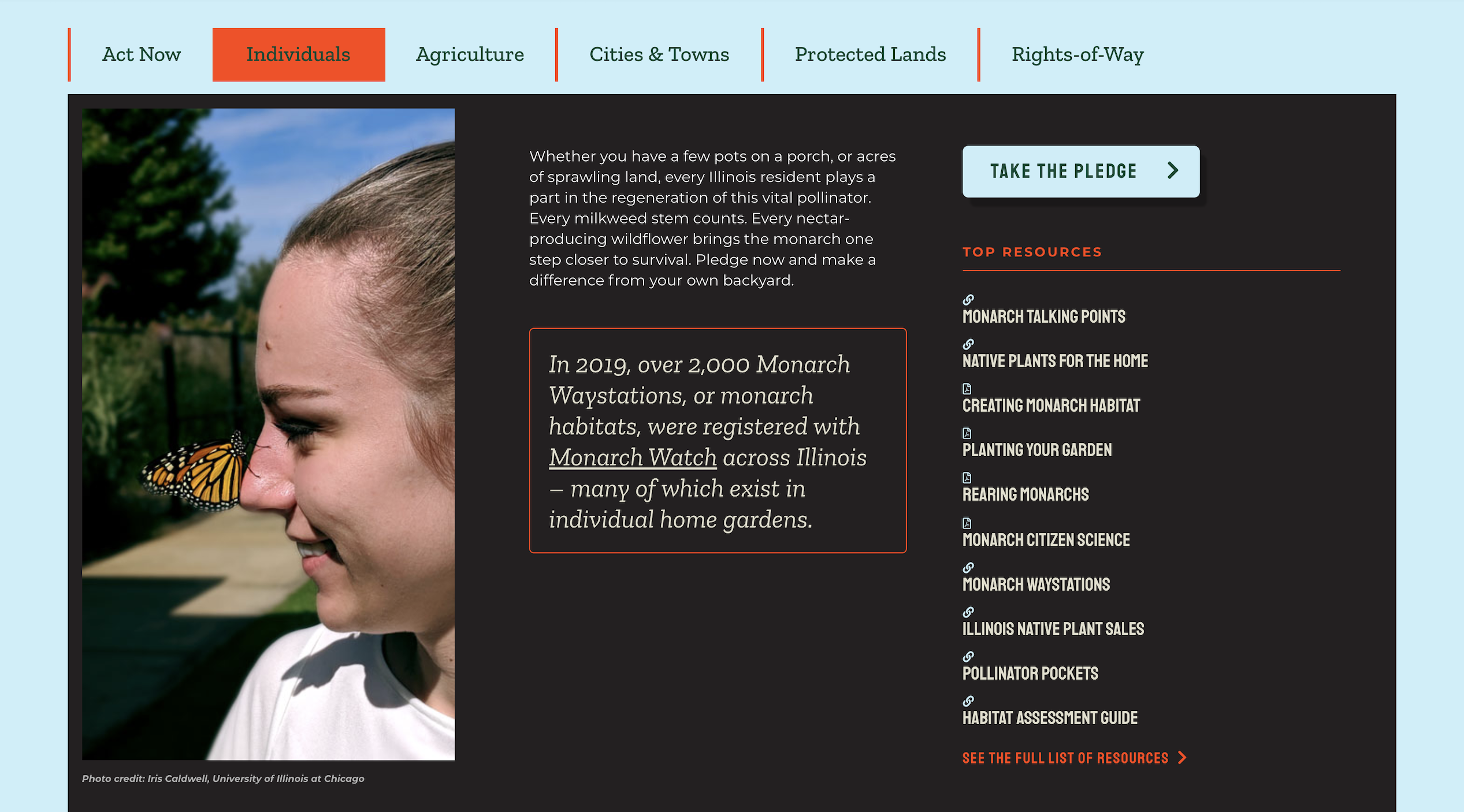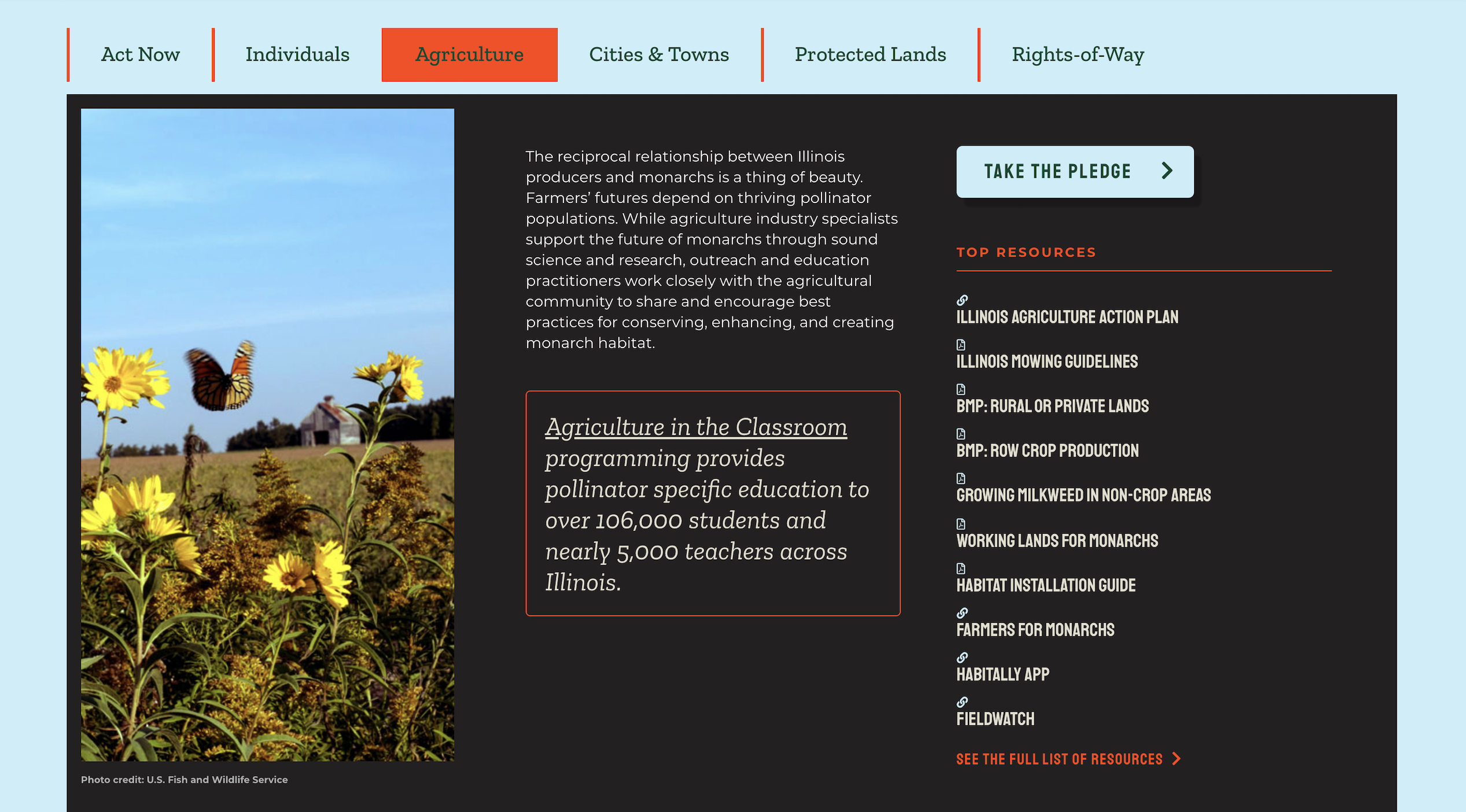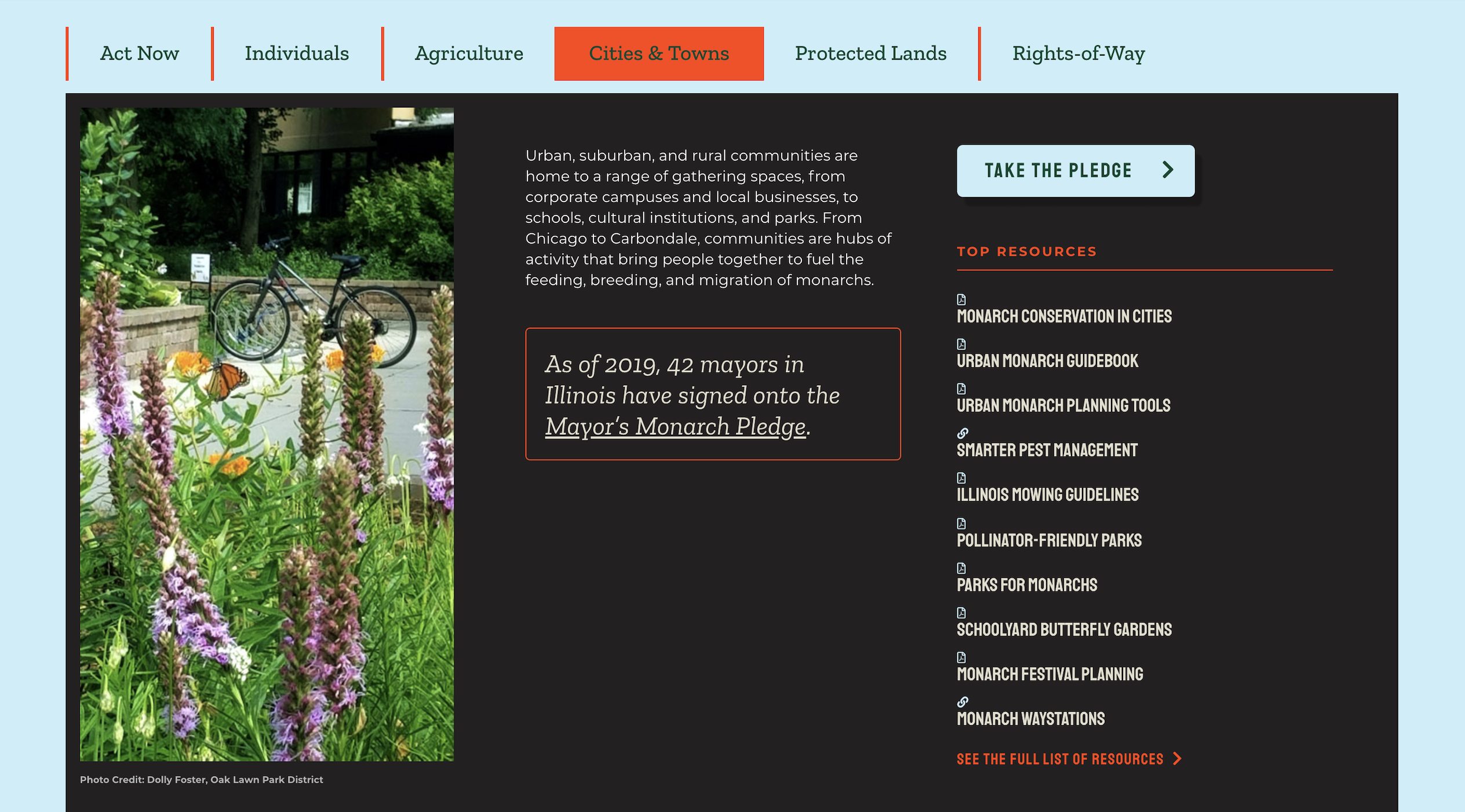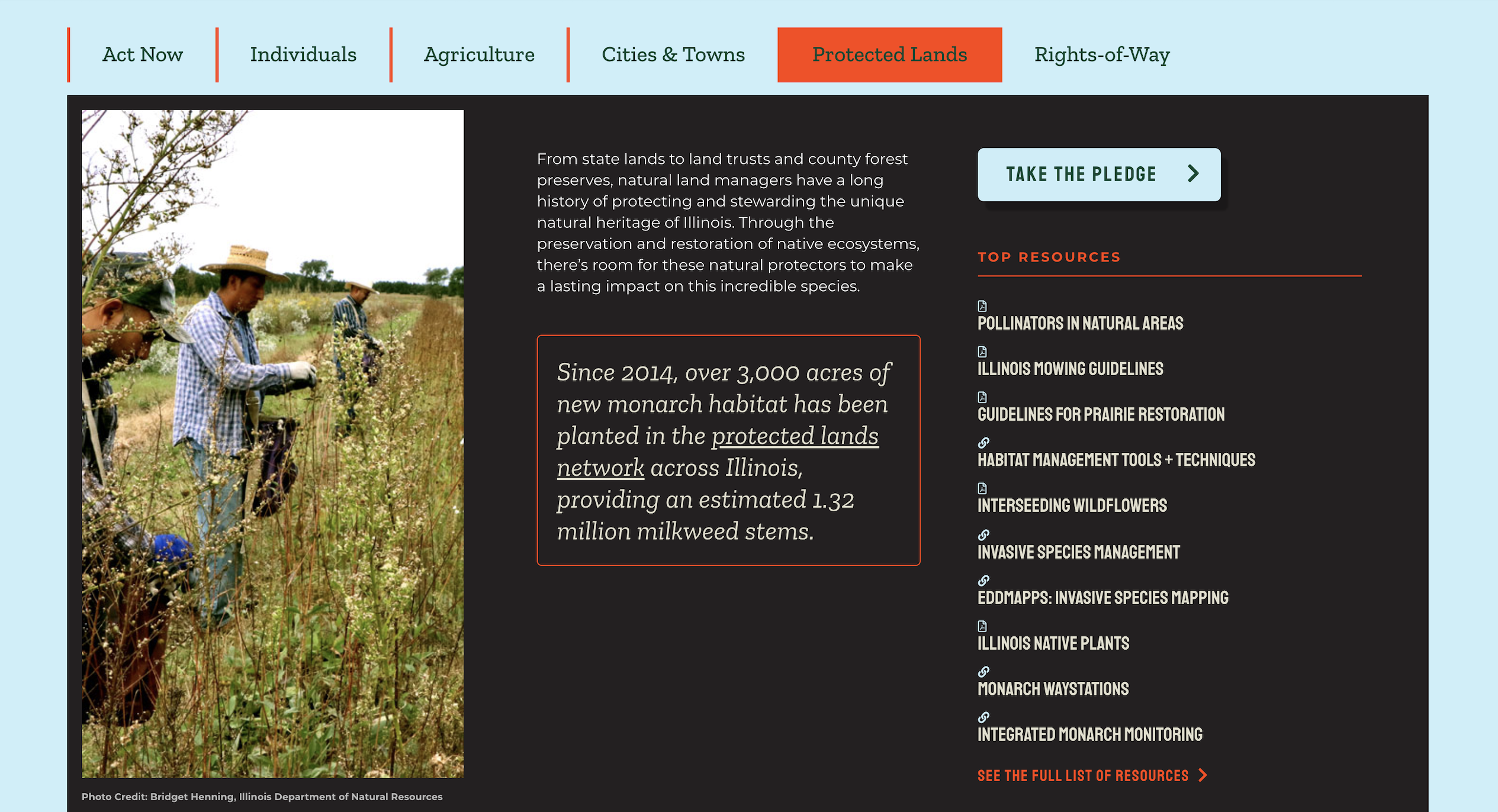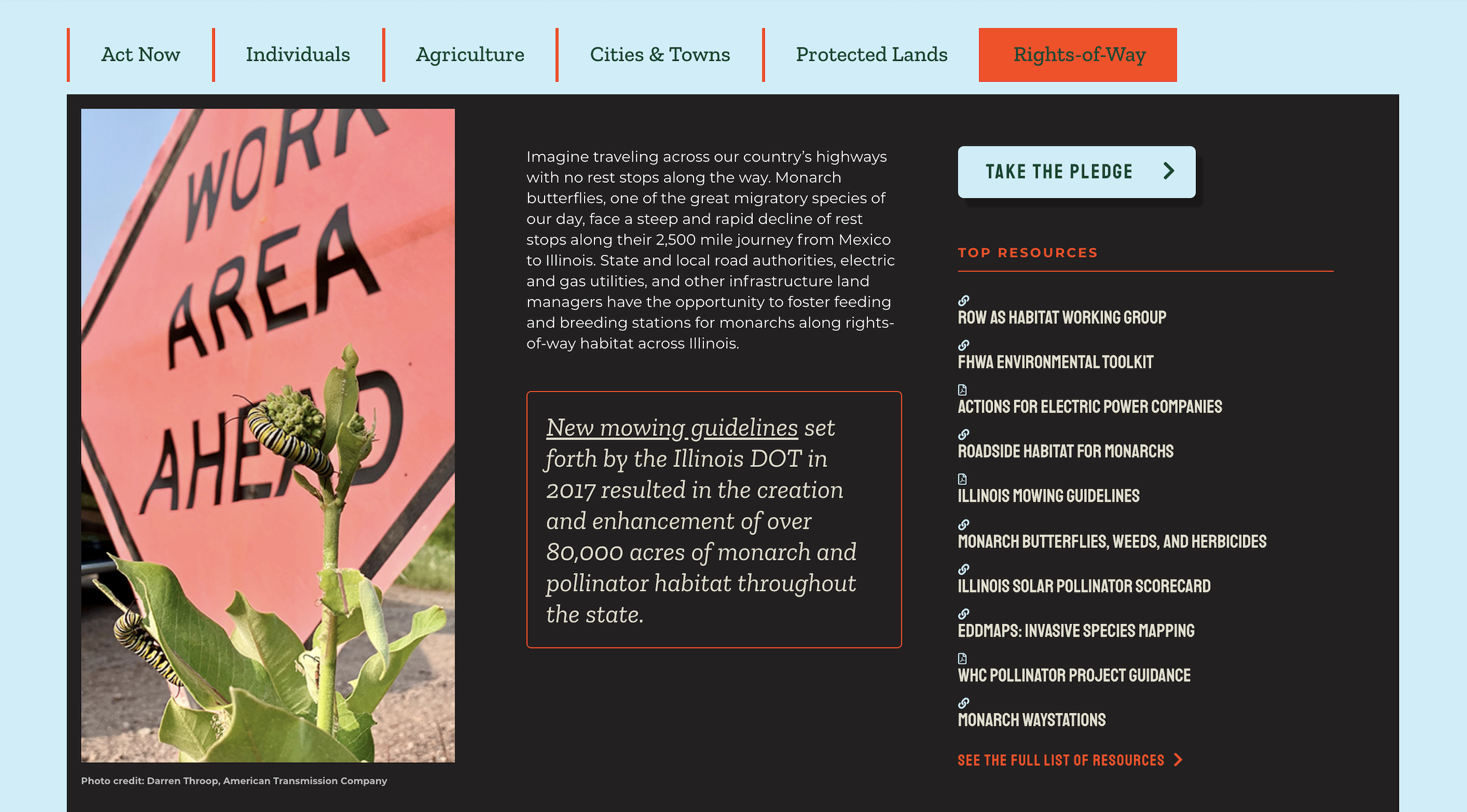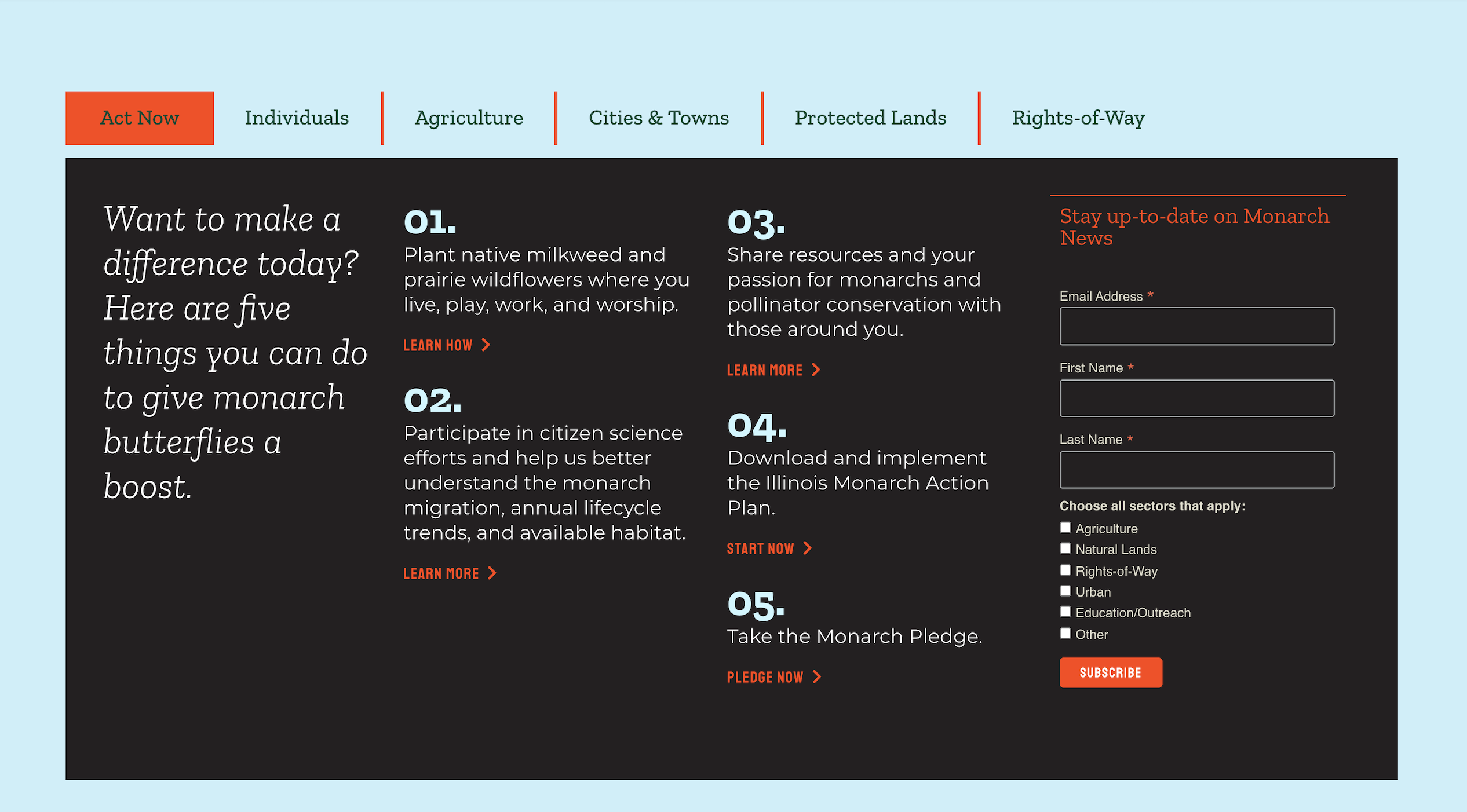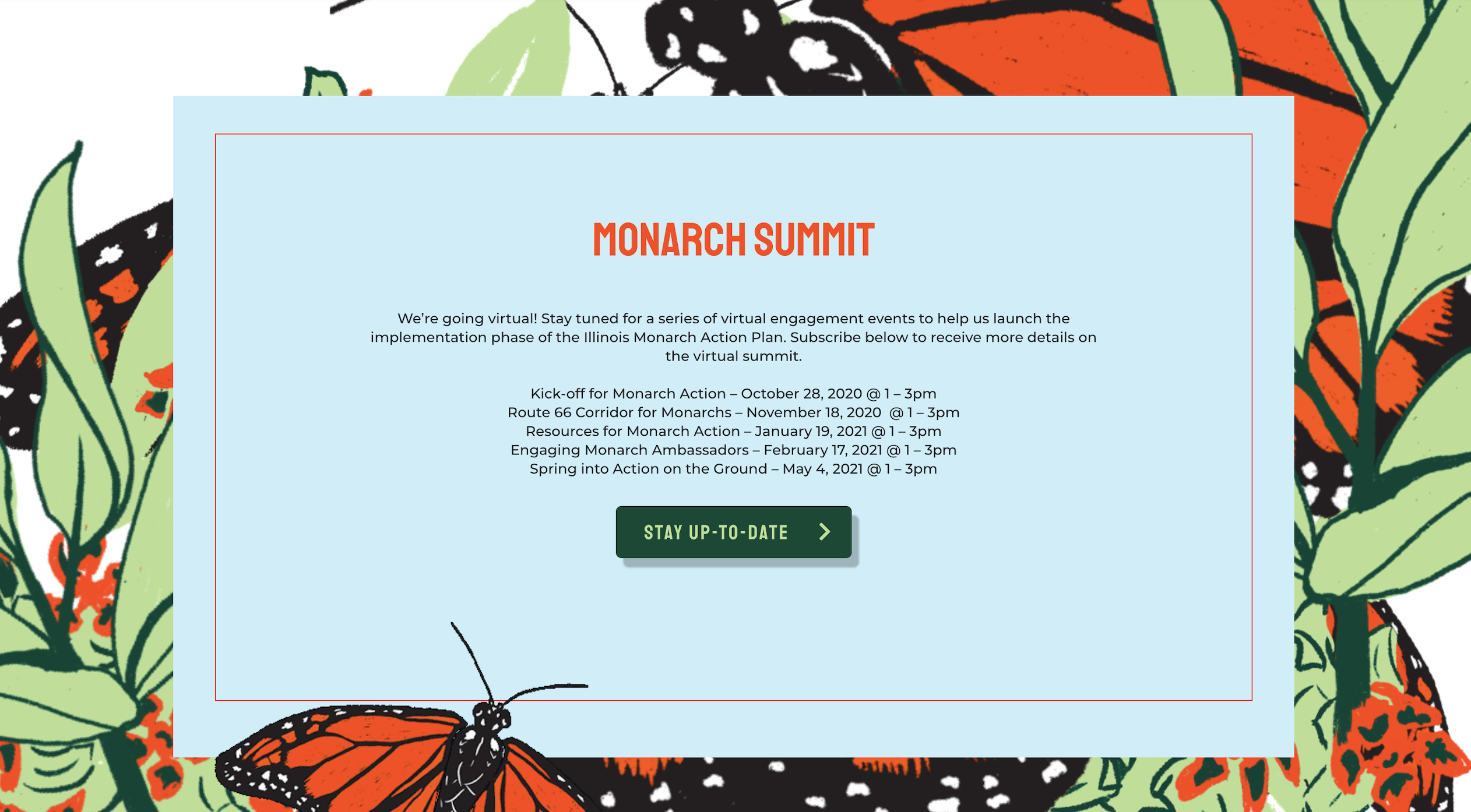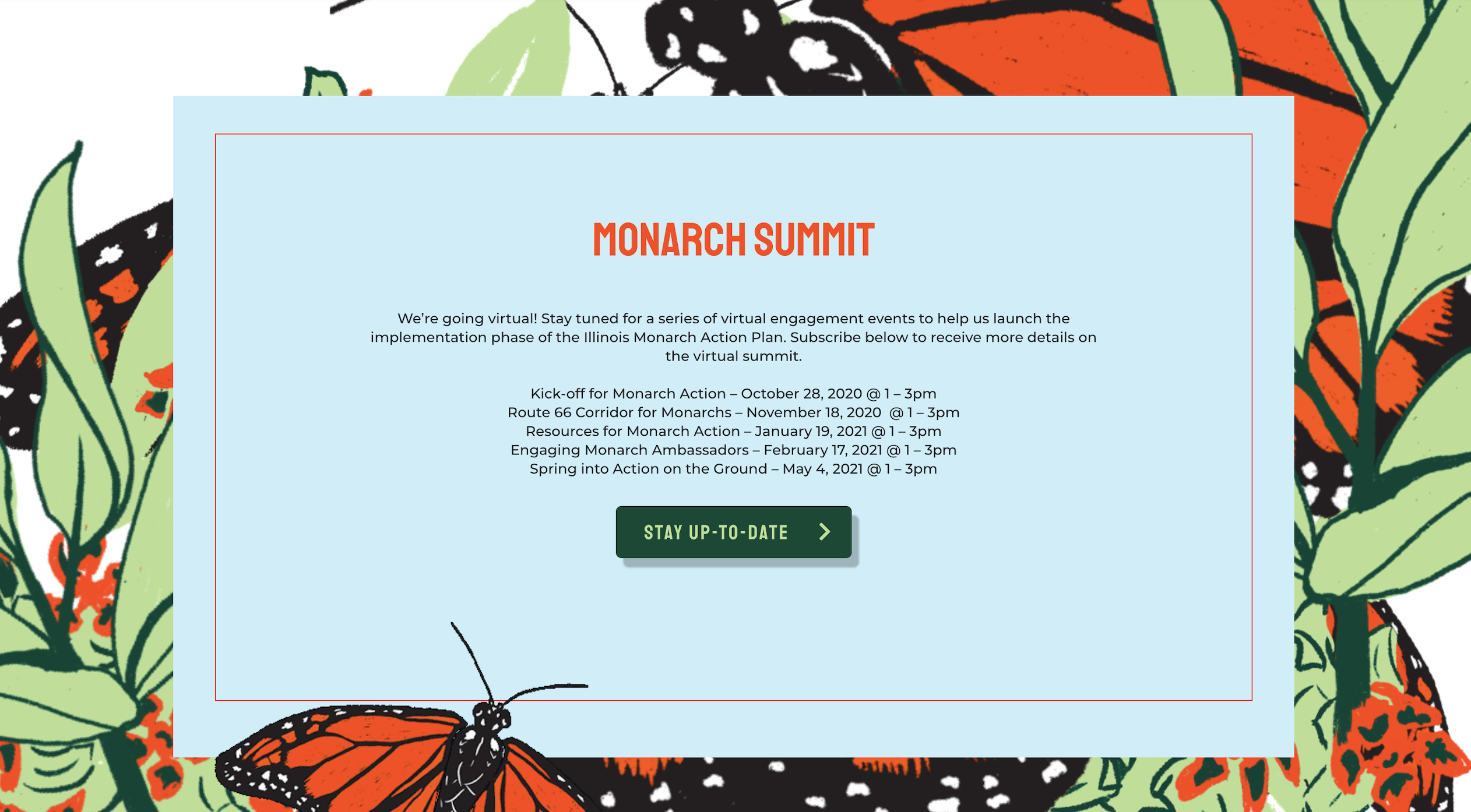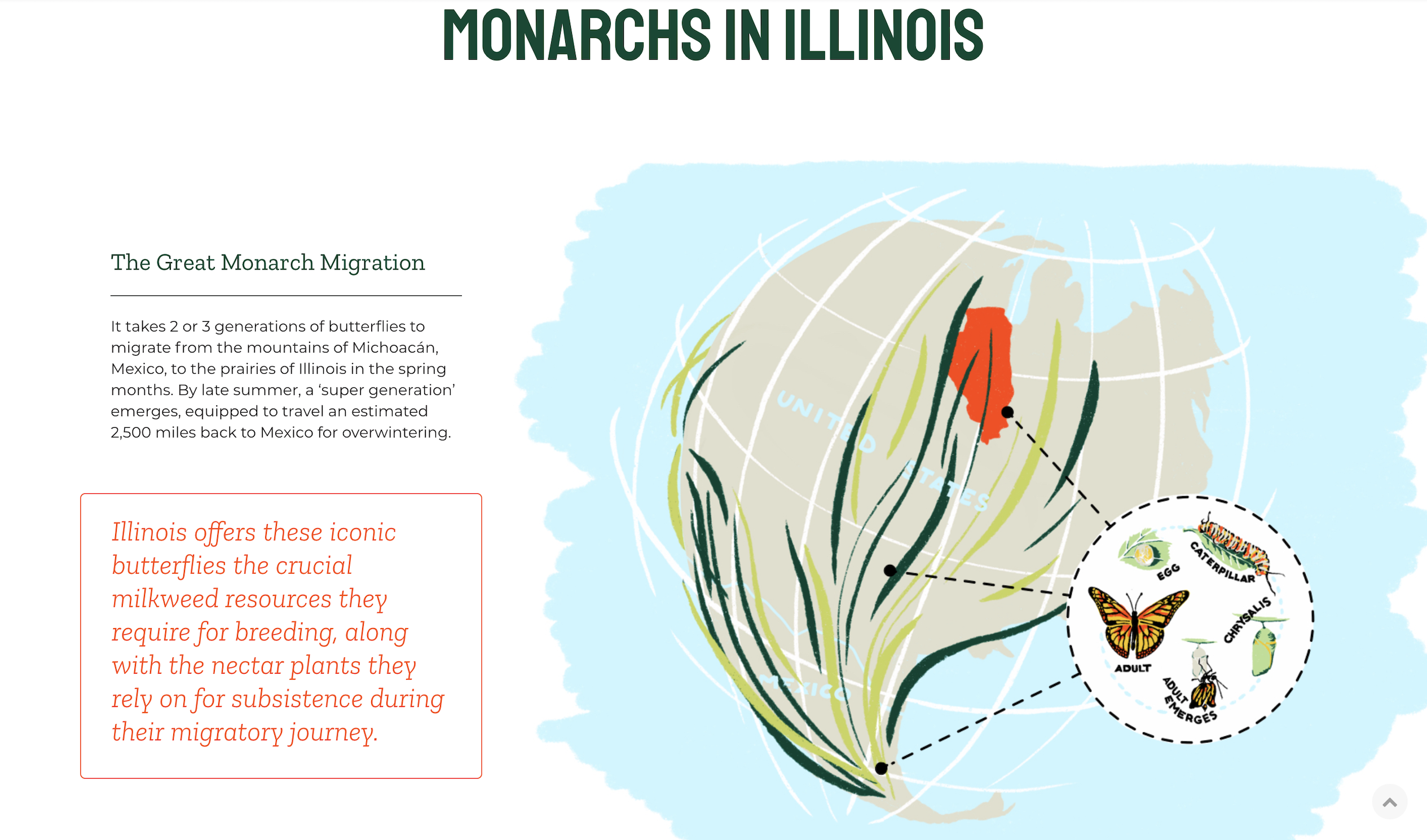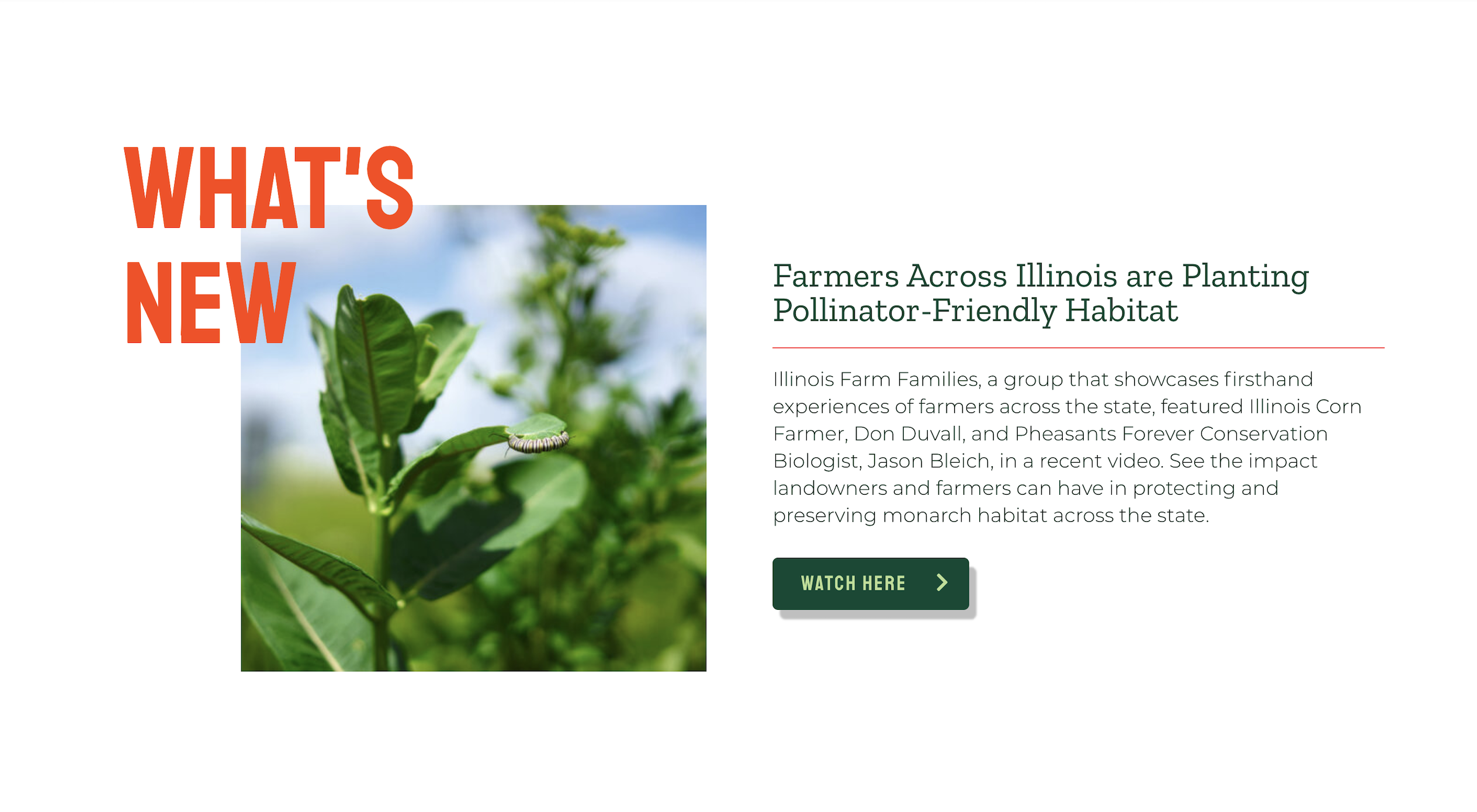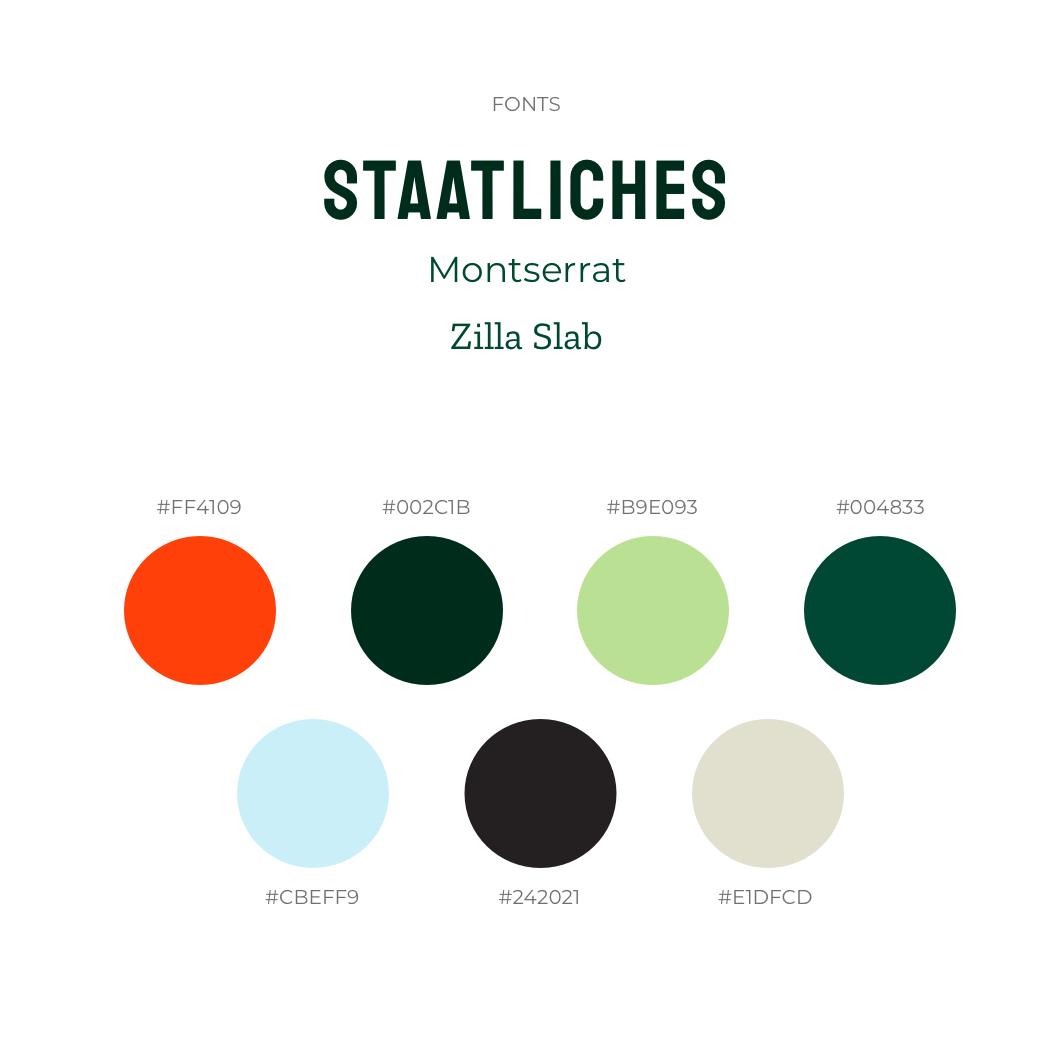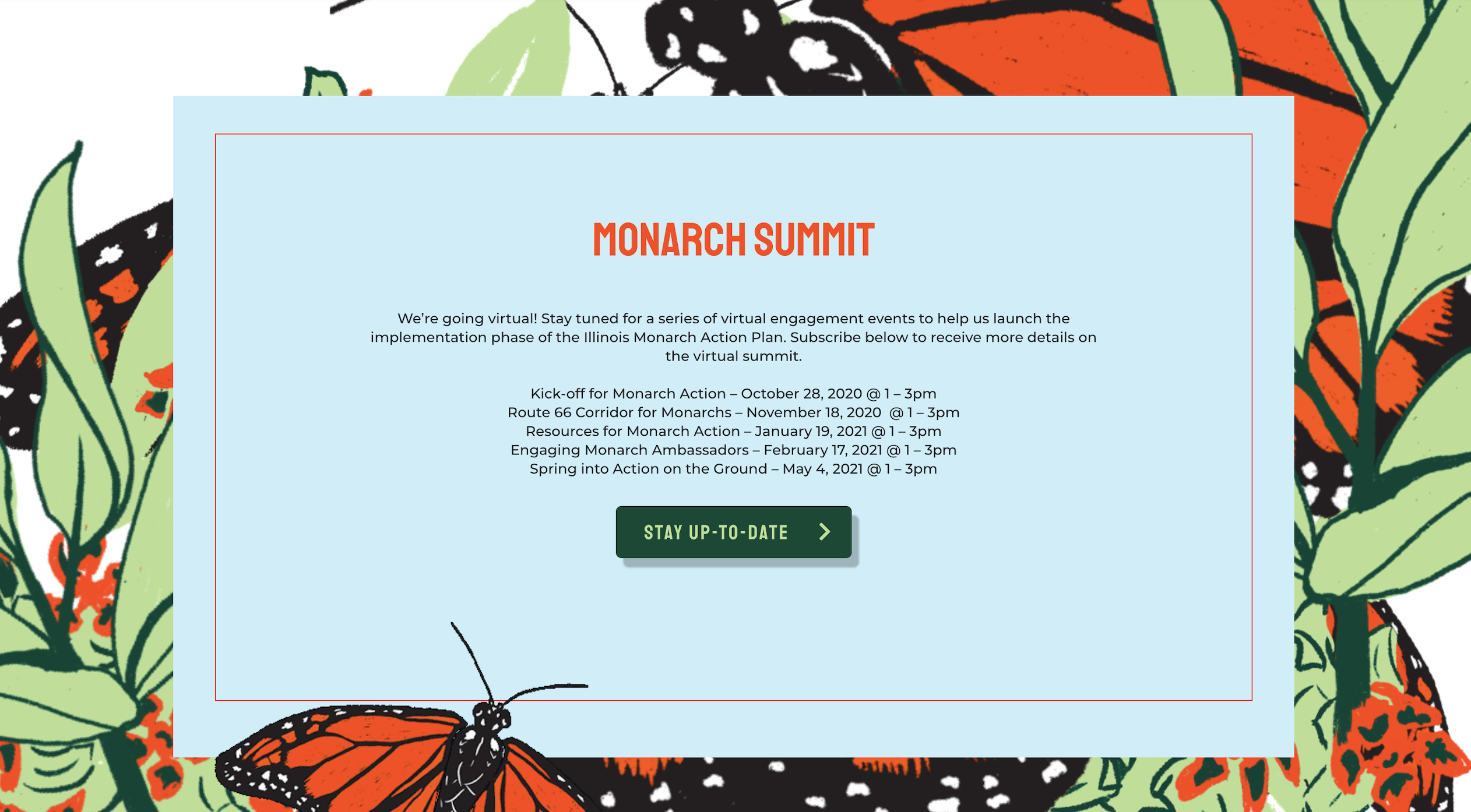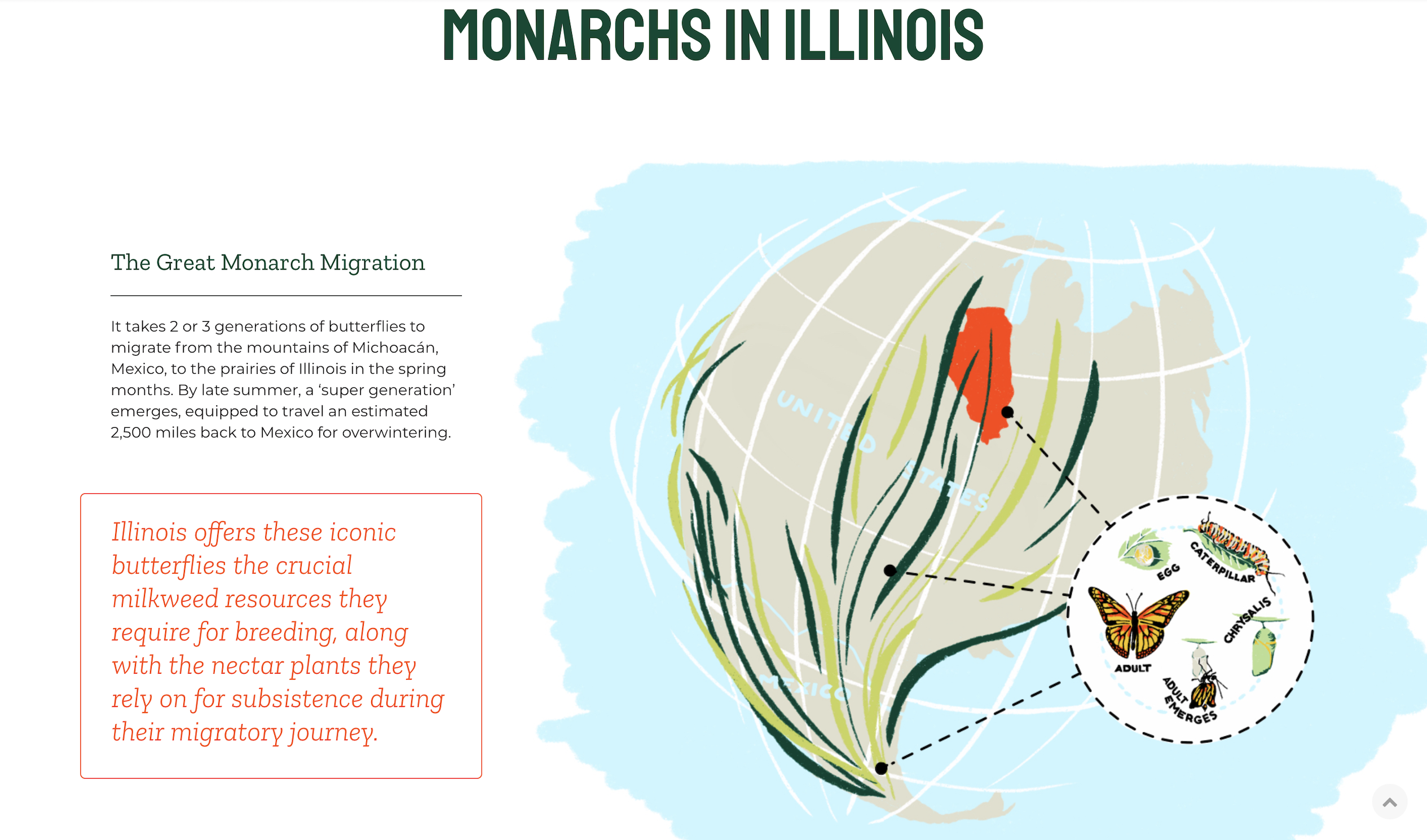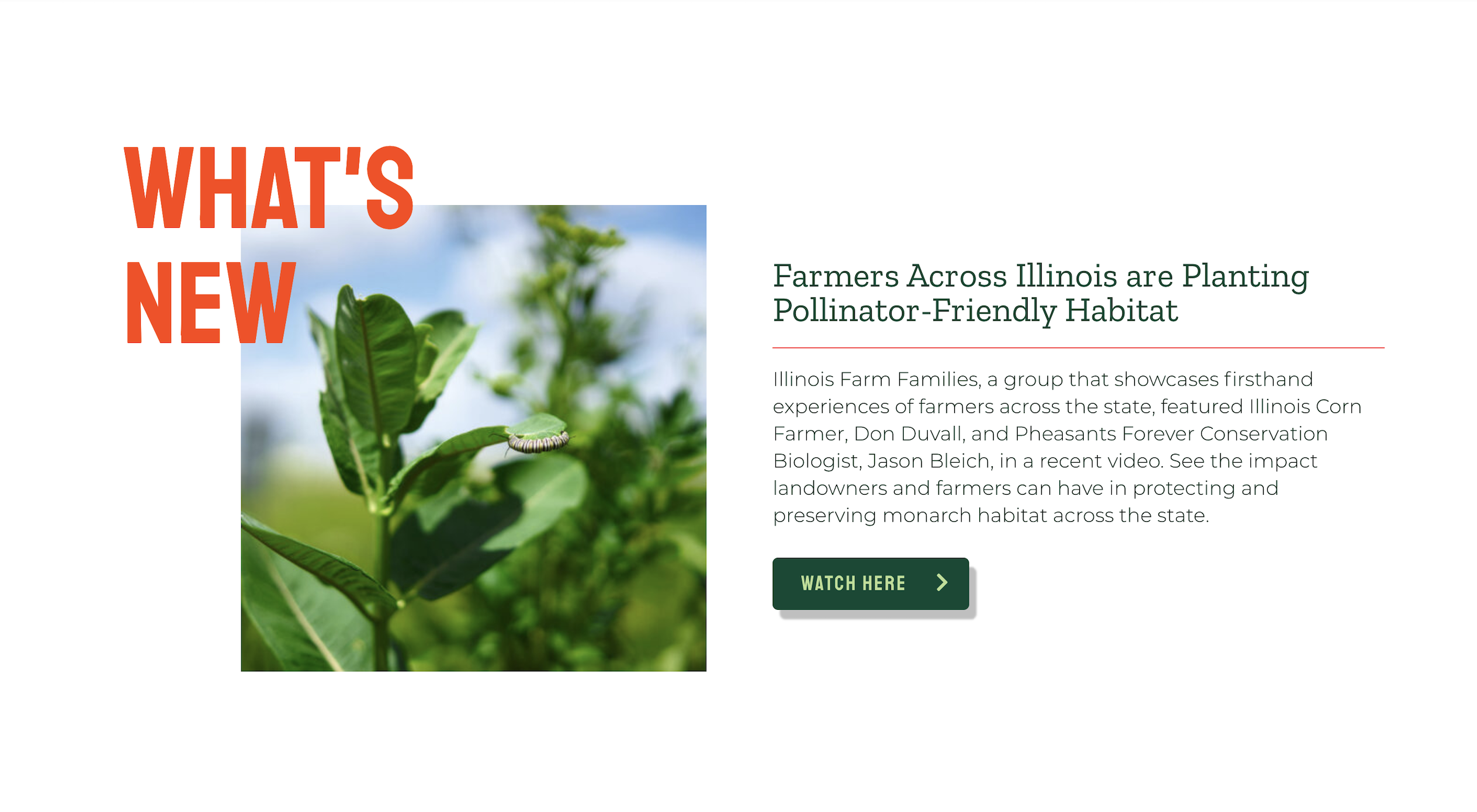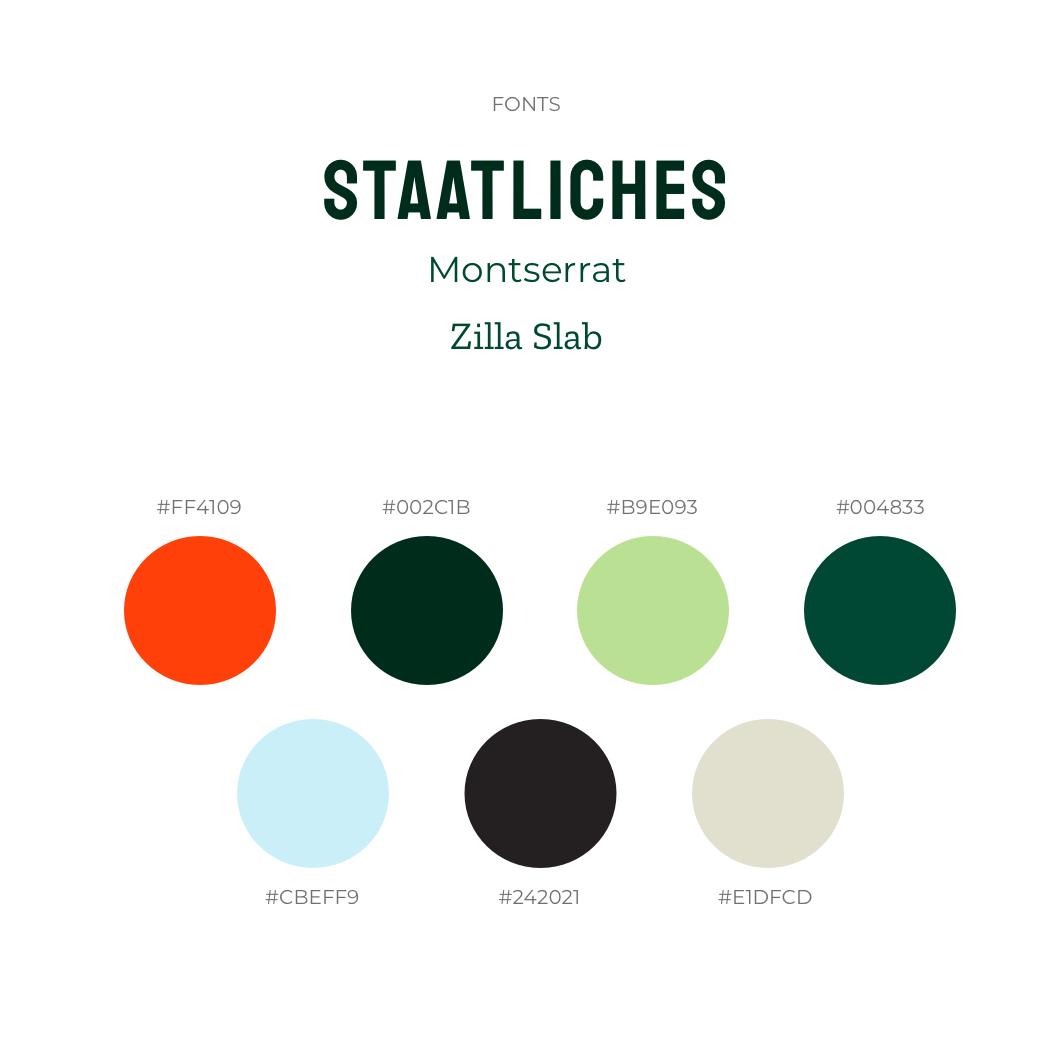 The Challenge
As a cohesive, statewide effort, the ERC wanted to convey the mission and vision of the Illinois Monarch Project (IMP) in a thoughtful, clear, and powerful way.  With numerous stakeholders and strategic partnerships at play across sectors including agriculture, urban and protected lands, rights-of-way, and the general public, the ERC was intent on keeping their focus on the future.  This meant making sure each agency had their voice heard and an active role in protecting the monarch.  
Our primary goal was differentiating the ERC and IMP from other conservation and environmental research sites focused on the monarch, while reinvigorating IMP stewards about what the project was and sought to achieve.  Similarly, we wanted to address the issue of inconsistent brand messaging and poor visibility by crafting a cohesive brand story with a clean, professional, yet personable appeal. 
Our Approach
Our objective at this stage was to refine the brand identity – specifically, a landing page with illustration, copy, UX and front end design – to improve brand positioning and help the IMP promote the second statewide Monarch Summit, as well as distribution of the Illinois Monarch Action Plan.  
We began by taking a glance at the competitive landscape.  How were other state agencies and institutions sharing their Action Plans and monarch conservation efforts?  We met on a recurring basis with ERC staff and steering committee members for strategic workshops, asking ourselves, what is the one thing we want people to feel?   We crafted a comprehensive style guide including typography, color palette, graphics and illustration, and tone of voice.   
After distilling the Action Plan, we realized that this would be a much more comprehensive site build than initially anticipated.  We took the approach of a scrolling web design with individual tabs for each core stakeholder group highlighting their specific role in monarch conservation. 
The Results
Much time was spent editing and copywriting to create an inspiring, colorful, public-facing persona that matched the visual style and tone, yet maintained the high standard of credibility and professionalism of the University and the ERC.  Our goal was an appeal to stakeholders across industries as well as individuals, relaying the importance of the Action Plan and providing relevant calls to action and resources.  From a brand identity and concept design perspective, we drew on the color and energy of the species itself, sprinkling in custom illustrations, animations, and graphics throughout the site, including maps and a timeline reflecting the evolution and key milestones of the IMP.  These illustrations were designed to be compatible across both web and print media as part of the IMP Action Plan. 
The final result was a fresh website that coincided with the launch of the IMP's pledge initiative, jam-packed with resources and information but presented in an approachable, easy to navigate format.  In the first four months, the IMP received more than 220 pledges with a 10% increase in email subscribers, and is now using the site as a home for the published Illinois Monarch Action Plan and related work.
220 + pledges
10% increase in email subscribers
and counting …