From Ice Cream to E-Juice, Cage-Free Critters and Sustainable Soup: The Future of Product Packaging for Kids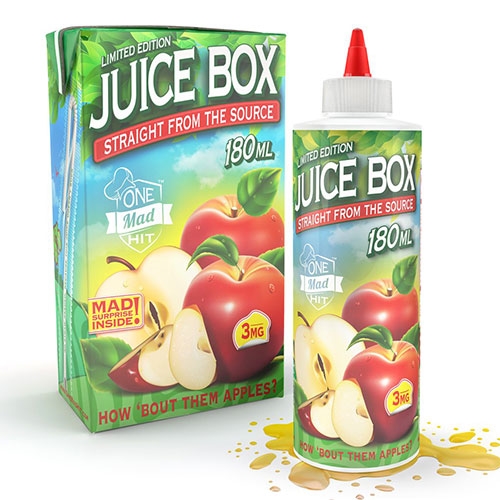 One Mad Hit Juice Box.  V'Nilla Cookies & Milk. Whip'd Strawberry.  Carnival Crunch. Twirly Pop. Could these be new ice cream flavors from Ben & Jerry's?  Or Kellogg cereals? Nope. They are flavors of E-Juice, also known as smoke juice or E-liquid, a nicotine-based liquid used in electronic cigarettes and personal vaporizers.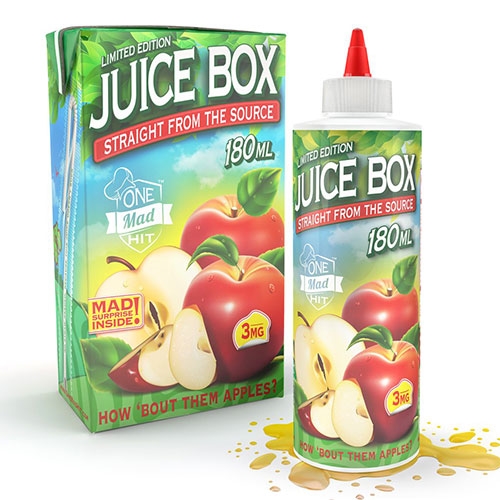 In May, federal regulators warned more than a dozen manufacturers, distributors and retailers of endangering children by marketing nicotine to resemble kid-friendly products.  Feds said the packaging of nicotine was "misbranded" under the Federal Trade Commission Act, which prohibits unfair or deceptive advertising. (Similar tactics to sell cigarettes were banned years ago when the FTC moved against Joe Camel and kid-friendly flavors like strawberry, grape, and chocolate.)
This time, feds said kid-friendly branding could mislead children into thinking e-liquids — toxic if swallowed — were ingestible, and it's easy to understand why. Carnival Crunch, for instance, is described as "Rich sweet vanilla bean ice cream with a good dose of your favorite childhood cereal" while Twirly Pop resembles a unicorn pop lollipop and ships with one, too.
"No child should be using any tobacco product, and no tobacco products should be marketed in a way that endangers kids — especially by using imagery that misleads them into thinking the products are things they'd eat or drink," FDA Commissioner Scott Gottlieb told reporters in a press briefing. The companies must change the labels and packaging of the products or face seizure or injunction.
Kids have been advertising targets for years with brands using cartoon characters, sweet flavors, and bright colors to attract young and impressionable eyes.  But what's clear to responsible marketers is that it's not only what you sell, but how you package it.
Successful marketing is measured by its effectiveness on an audience, and packaging products in ways that appeal to children requires a careful approach.  This involves the examination of whether or not a product is considered hazardous to children and, even if it is deemed harmless, whether the packaging sends the right (e.g. socially conscious/moral/culturally sensitive) message.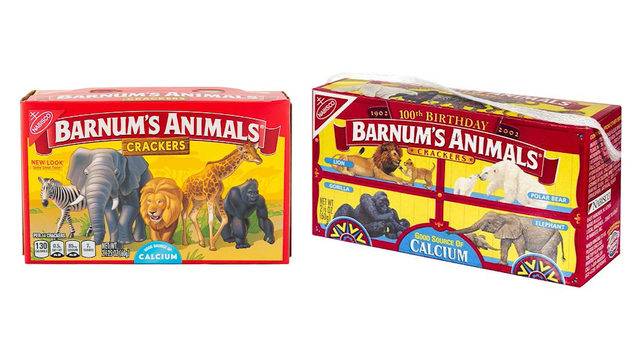 Here's another example:  In recent months, the classic Barnum's Animal Crackers yellow-and-red box was redesigned by Mondelez International (Nabisco's parent company) to remove the circus wagon bars shown caging the animals.  Even species added in later decades — an American elk in 1923 and a brown bear in 1987 — had been depicted behind bars.
PETA argued for years that the box portrayed a cruel era when traveling circuses caged exotic wildlife.  The new boxes show an elephant, lion, giraffe and gorilla roaming free in a natural savanna habitat with limited editions depicting marine life and endangered species — all cage free and in the wild.
"To continue to make the brand relevant for years to come, we felt this was the right time for the next evolution in our design, now showing the animals in a natural habitat," a Mondelez spokesman said. "The new box for Barnum's Animals crackers perfectly reflects that our society no longer tolerates the caging and chaining of wild animals for circus shows," PETA Executive Vice President Tracy Reiman told the Associated Press.
Guidelines exist to encourage responsible marketing, including the Children's Rights and Business Principles, created by UNICEF, Save the Children, and the United Nations Global Compact.
Behind the scenes is a new generation of innovative thinkers, reimagining product packaging solutions with new concepts, functions, shapes and designs.  Recreate Packaging 2018 in Madrid, which focused on children's food packaging, featured 258 entries with packaging based on sustainable, renewable materials. There was soup that could be eaten directly from the package with a leaf-shaped spoon and a seed to plant. Yogurt packaged in cardboard glasses. Porridge with a bird's hat as a measuring cup to add oats and water. And fruity snacks that came out of a monster's mouth.
"Our expert jury was really impressed by the high quality of the award-winning designs, which combined dynamic functionality with playful design and attractive shapes and graphics," said jury chairman Annica Bresky. "In fact, all the shortlisted designs in the competition could have high potential to affect consumer purchasing and be enjoyed by kids and adults alike."