The Immersive Arts Experience: Ladies & Gents, Please Leave Your Seats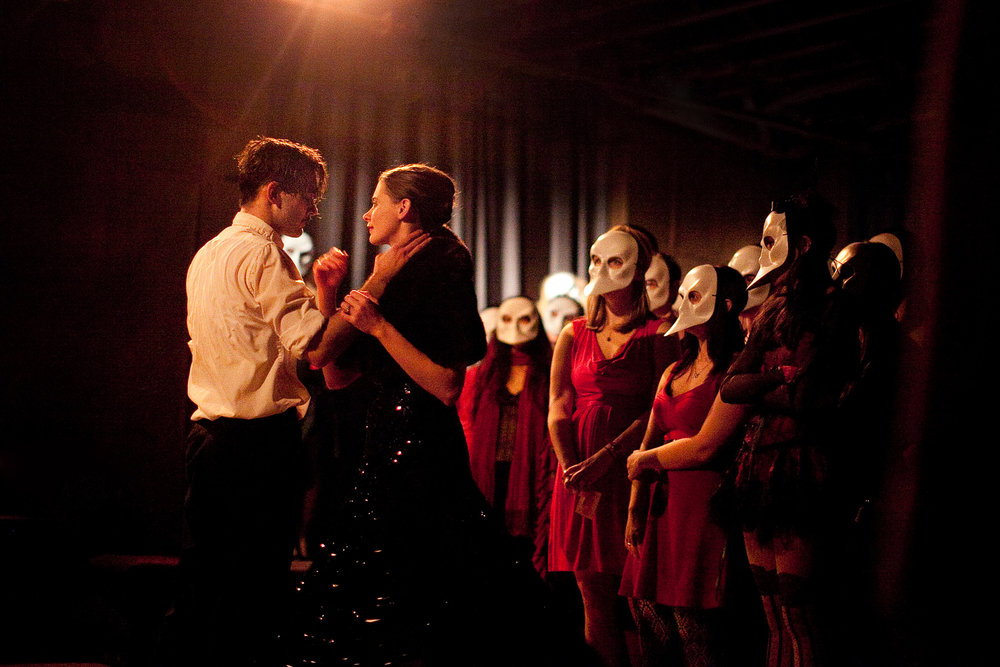 Immersive arts are for the modern brain, the experience junkie, the adventure seeker. They're for the screen-enslaved culture that is virtually all of us at this point. Whether you're talking exhibitions, theater productions or film screenings, all-out immersion is fast becoming the norm. Increasingly common, pushing the envelope experientially is how producers, writers, museums and artists are competing for audiences and publicity.
The trend comes down to one word:  digital.  Think about it.  Our lives are inextricably bound to split-second news, a constant stream of images, texts and tweets.  Is it any surprise that audiences are clamoring for visceral, authentic, all-enveloping experiences?
"People are seeking experiences where they can be engaged in a more authentic and direct way, because so many of our communications are removed and facilitated through screens," Mat Diafos Sweeney, Artistic Director of Four Larks, told the Los Angeles Times. Four Larks' acclaimed "junkyard operas" are staged in spaces such as defunct storefronts and car repair shops.
The Museum of Contemporary Art in Chicago's upcoming exhibition, I Was Raised on the Internet  (opening June 23), explores the impact of the digital age on how we experience the world and interact with one another.  The show features nearly 100 photographs, paintings, sculptures, films, and videos, as well as interactive technologies such as virtual reality.
"Fittingly," the MCA writes, "the viewer is an active agent, engaging new forms of networked behavior and participating both in the gallery space and beyond."
When it comes to theater, Punchdrunk International takes the cake with Sleep No More. Beginning its run in 2011 and currently on tour in Shanghai, Sleep No More sets up shop in a formerly abandoned New York club renamed the McKittrick Hotel for a dark and heavily immersive retelling of the Shakespearean tragedy, Macbeth.  The New York Times' chief theater critic, Ben Brantley, called the piece a "movable orgy."  "An unimpaired sense of balance and depth perception is crucial to attending Sleep No More," he explained, "which leads its audience on a merry, macabre chase up and down stairs, and through minimally illuminated, furniture-cluttered rooms and corridors. The creative team here has taken on the duties of messing with your head, which they do just as thoroughly as any artificial stimulant."
what's the secret?
Each of these pieces begs the question, what is the key ingredient to a successful immersive arts experience?  Theater reviewer Jonathan Mandell identifies the following five elements:
Immersive arts often stimulate all five senses, drawing on touch, taste and even smell, as much as sight and sound
Whether a theater production or film screening, these experiences double as art installation and interactive museum.  
Audience members feel they've had a uniquely personal experience, in which they are part of the show, not just part of the crowd.  
Immersive arts emphasize the social aspect of interaction, whether through playfulness or task taking. 
They have a story to tell.  
Exhibitions and theatrical productions are a shoe-in for the immersive experience. They are, after all, environments we relate to on a supremely tactile, sensory level.  So where does this leave the 2D world of film screenings, which are about as passive a form of entertainment as you can get?
A pioneer of immersive movie going, Secret Cinema launched in London in 2007, screening everything from grassroots productions in abandoned buildings to large-scale productions in awe-inspiring locations.
For this year's screening of Moulin Rouge, for example, movie devotees squeezed into their corsets to enter Montmartre's legendary cabaret, watch live performances, listen to DJs spin, and drink swanky cocktails.  Jack Shepherd, culture reporter for Britain's Independent, described the event as "sensory overload, as the incredible looking audience interacted with [redacted], drank a lot of [redacted] and watched performers doing [redacted]."
He concluded, "After the event finished, getting the tube back through London was a huge downer. I didn't want to leave Paris or those short-kept friends. The Moulin Rouge offered a welcome rest from Brexit. From Drumpf. From the tirelessly messy and turbulent world we all live in."
And it offered a welcome rest from our tablets and smartphones, too.
Wish you'd been there? So do I.