The Future of TikTok Advertising
TikTok is the most-downloaded mobile app and fastest-growing social media platform. It reaches 1 billion users who spend nearly 20 hours on the app each month and generated more than $11 billion in annual revenue from ads in 2022—a 200% increase from the previous year.
The social media platform is gobbling up market share from Google, Facebook, and Snapchat, and even giving Amazon a run for its retail money. Defy it if you have good reason. But ignore it at your peril.
We all know that digital marketing has been eating away at traditional approaches to ad spend by creating consumer+brand conversations that directly correlate with transactions, web traffic and conversion. Using an algorithm that suggests content to users based on their specific interests, TikTok is only accelerating that trend.
The platform allows brands to showcase their products and services through sponsored content, creative short-form TikTok advertising, and influencer marketing. It also pushes more innovative features, from lip-syncing capabilities and AR filters to shoppable ads and other elements that promote interactive engagement. Plus, the TikTok advertising platform is sophisticated and offers competitively low pricing.
When rolling out TikTok For Business globally, the brand made a bold call to advertisers to stop making ads. The mantra, "Dont Make Ads. Make TikToks," was an invitation to get creative and authentic with content that resonates with audiences. In other words, TikTok takes an unfiltered approach, so it doesn't feel like marketing, and that's just how the digital consumer population of Gen Z likes it.
As Sofia Hernandez, TikTok's Global Head of Business Marketing, put it in TikTok What's Next Report 2023, "2022 was the year people realized they didn't have to live their lives as they always have done – with different points of view and ideas transcending cultures on TikTok."
What Does TikTok's Dominance Mean For Agencies & Advertising Dollars?
TikTok's dominance gives it an edge for brands—and we're talking a lot of them—who want to capitalize on the buying power of Gen Z. Nearly half of TikTok users in the US are between the ages of 18 and 34. Gen Zers use TikTok more often than Instagram, and predictions show that their TikTok use will eventually exceed even Snapchat. That means over-allocating spend to platforms such as Facebook, Instagram and YouTube won't work as well as it used to.
Brands are also realizing that TikTok's low cost gives it a substantial edge. The Financial Times reported the TikTok cost for 1,000 impressions (CPM) is about 50% cheaper than Instagram, 62% cheaper than Snapchat, and about 33% cheaper than Twitter.
And if you think that doesn't matter, consider this: More than half (55%) of TikTok users made a purchase after seeing a brand on TikTok. During the last holiday season, it was actually the most influential platform for gift ideas, giving Amazon (which introduced its own shoppable feed) a run for its e-commerce money.
TikTok Trends Shaping The Future
What does the future hold? TikTok thinks it knows, and it's in line with some of the Advertising Trends According to Industry Experts we discussed in a blog earlier this year. Based on its data about research and behaviors, the platform's What's Next Report predicts three major trends will shape its future:
• Actionable entertainment, like e.l.f. Cosmetics and its fun in-feed advertisements.
• Making space for joy, like the in-game Sims Sessions concert series of EA Games that invites
users to join their favorite artists in the recording studio.
• Community-built ideals, such as when eBay cultivated a #SneakerTok community around the
coolest shoes.
Observers expect TikTok will continue to bridge the gap between the virtual world and reality for brands by offering more sophisticated options like shoppable videos, which allow users to instantly purchase products by tapping ads. Brands will also find enhanced AR and data-driven capabilities on TikTok to personalize ad experiences and generate higher engagement. Rumor has it that the platform is reportedly expanding into the search ads market, putting TikTok advertising in direct competition with Google and Microsoft.

It's not without challenges. Despite TikTok's popularity, it's never a good idea to try to predict the future of digital media in advertising with any certainty. In fact, the platform's average engagement rate has been falling by about 28% each year as privacy and security concerns mount.
TikTok plans two additional data centers in Europe, which may or may not counter that trend. In a statement, the company, which has 150 million users throughout Europe, said it remains focused on "building trust with our community by demonstrating to them that their data is secure."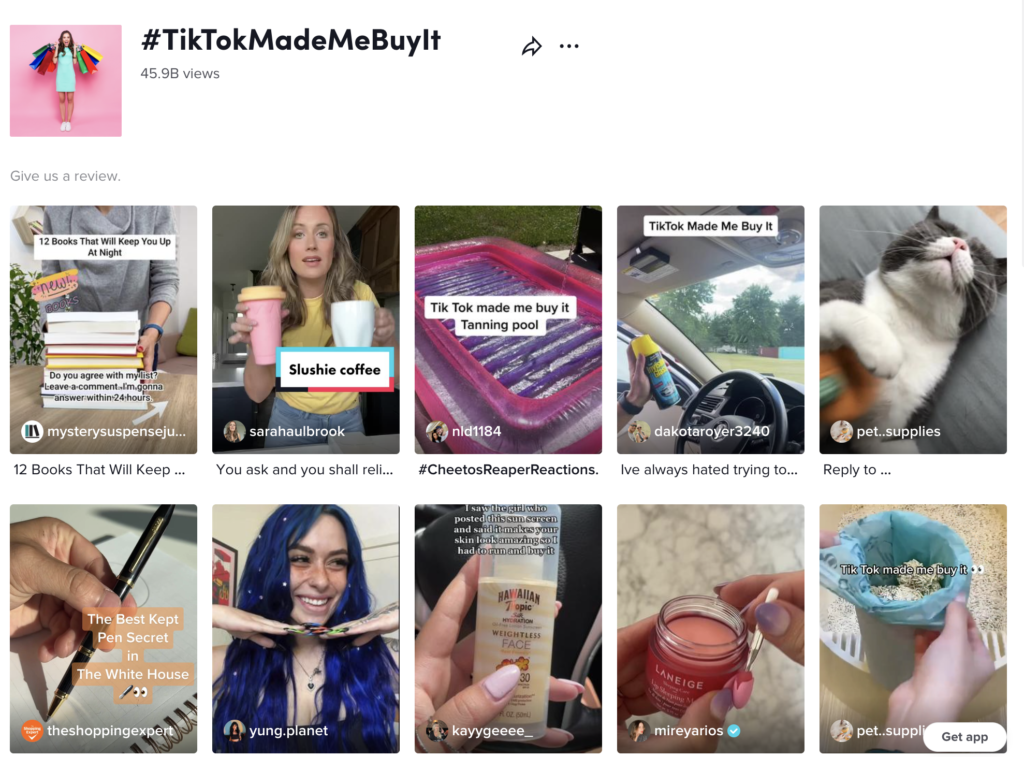 If younger consumers begin to balk at privacy issues or the politics behind this Chinese-owned platform, their wariness may drive their business—and brands—elsewhere. But for now, that isn't stopping a cheese-and-pickle wrap from going viral.
Nor is it stopping TikTok from building on its #TikTokMadeMeBuyIt trend with a new shopping checkout app. Why tell young consumers they need something when you can show them, and make products easier than ever to buy?
"Turn entertainment into shoppable experiences" is the pitch on TikTok for Business. "Here you can join, shape and create conversations that power a new type of word-by-mouth." At least for now, TikTok is still ticking.